Duncan Crabtree-Ireland, Class of 1998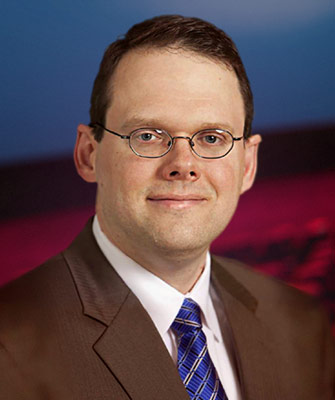 Duncan Crabtree-Ireland is a 1998 graduate of King Hall and current Chief Operating Officer and General Counsel of the Screen Actors Guild-American Federation of Television and Radio Artists (SAG-AFTRA). Before attending King Hall, he received his bachelor's degree in International Law and Policy from Georgetown University.
What did you do before coming to King Hall?
I took a year off during undergrad and worked for the Princeton Review. I was the assistant director for SAT prep services in the Washington/Baltimore region. I also taught their LSAT prep course for a number of years before I actually took the LSAT! After undergrad, I worked for a radio frequency engineering company amusingly called LCC, LLC.
What is your favorite aspect of your current work?
Every day working at SAG-AFTRA is different, and I get to be a problem solver—I've never been bored. That is my number one criteria; if you have a job and work there for 15 years and have never been bored, then that's a good place to work! It also helps to be doing work that you truly believe in. It makes you feel good to come to work every day.
How did you come to work for SAG-AFTRA?
When I was in law school, my main interests were international law, criminal law, and labor law. At the conclusion of law school, I choose to practice criminal law. I knew we were going to relocate to Los Angeles for my husband's acting career, so I really started looking for a criminal law job in Los Angeles in 1998. I was lucky enough to get an opportunity to work for the Los Angeles County District Attorney's office, where I worked for two years. I got a lot of great experience, but for various reasons I decided I was ready to move on in 2000. I knew I wanted to work "in-house" with no billable hours. I just happened across a Staff Attorney position for SAG-AFTRA, and it had the added benefit of being 2 blocks away from my house! I started as a Staff Attorney and then gradually moved up from there.
What is your favorite King Hall memory?
My favorite King Hall memory is probably performing as part of the 4-person group lAwBBA. (Yep, just like "ABBA" but with a dollop of law on the side.) We lip-synced and performed at Cardozorama [now Aokirama] and other law school related events. I know one time we performed at the alumni center. We just had a blast; it was really fun. Once we graduated, the Class of 1999 took over! A close second would have to be helping my Jessup teammate (and good friend) Monique Ho (King Hall Class of 1999) get over her nerves as we waited to argue in the international rounds of the Jessup Competition (against the Czech Republic, as I recall) by singing "One Moment in Time" by Whitney Houston at full volume. It worked.
Who was your favorite King Hall Professor?
I think my two favorites were Professor Edward Imwinkelried and Professor Joel Dobris. Professor Imwinkelried was my Contracts and Advanced Trial Techniques professor. I learned most of what I needed to know about trial advocacy as an up-and-coming deputy D.A. from him. I had Professor Dobris for Trust, Wills, and Estates, as well as Advanced Estate Planning. He was always looking to share life lessons along with law lessons.
What class at King Hall served you well in your career choice?
The Jessup Moot Court Competition was a class, but it wasn't a "traditional" class because it was self-taught by the students. From a career point of view, it was incredibly helpful in that it taught me oral advocacy, time management, and project management skills. Managing a group of people to get a sixty page brief done was a major growth experience for me.
What types of student organizations did you participate in and how did they enhance your King Hall experience?
I was the Law Students Association (LSA) President and Treasurer. I also participated in Moot Court, LAMBDA, was the student ABA representative, and the King Hall Legal Foundation Treasurer. Looking back on it, I was pretty involved during my time at King Hall! LAMBDA was incredibly important to me because, for LGBT people, things were not then what they are today. Twenty years ago, there were a lot of questions as to whether people should be out in a professional setting. There also wasn't a large, open LGBT community at King Hall like there is now, so the people who were a part of LAMBDA were really important to have as members, allies, and as a strong support network.
Do you have any advice for current law students?
Use this time to figure out what you really want to do in your professional life. Once you figure that out, go for it! Don't let setbacks or difficulties stop you from pursuing your dream. Just because you don't achieve your dream right out of law school doesn't mean you can't achieve it. Also, learning doesn't stop when you graduate. Whether it is learning how to practice when you are a lawyer or embarking on a whole new path, all of those things are possible as long as you keep your mind open.