Jose Castillo, Class of 2006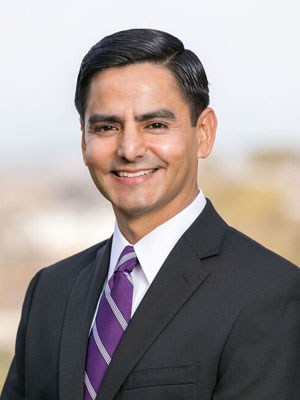 Jose Castillo '06 is an Assistant U.S. Attorney for the Southern District of California in San Diego. He has been a staff attorney for the U.S. Court of Appeals for the Ninth Circuit, an adjunct professor at UC Hastings, and a law clerk at the U.S. District Court for the Southern District of Texas. Before college, he served as a Sergeant in the U.S. Marine Corps. An avid runner, in 2010, Jose completed the Boston Marathon in 3 hours 5 seconds.
What did you do before coming to King Hall?
I served four years in the Marine Corps. I was seventeen years old when I joined. I needed money for college, but I also wanted to try something different. This way, I was able to do interesting things and to travel. I was stationed in Japan and San Diego as an airport firefighter. Sometimes we responded to emergencies of fighter jets that had landed badly. Fortunately, there weren't any major crashes. Afterward, I went to junior college in Santa Rosa and transferred to Sacramento State before coming to King Hall.
What did you do after law school?
Immediately after law school, I clerked for U.S. District Judge Micaela Alvarez in Laredo, Texas, for one year. Then I was a staff attorney at the U.S. Court of Appeals for the Ninth Circuit in San Francisco. During that time, I was also an adjunct professor at Hastings. I taught Legal Research and Writing and Moot Court. After that, I moved to my current position as Assistant U.S. Attorney in San Diego.
My wife is from San Diego, so it was a natural location to apply. Also, I knew from clerking in southern Texas that I wanted to go back to a border district because of the potential to gain trial experience early in my career.
What is your favorite King Hall memory?
I have several favorite memories. I miss having thoughtful conversations on a daily basis about current events happening throughout the world. I remember that my classmates and I looked at issues differently based on our backgrounds and experiences. Often we reached the same conclusion or opinion — but in different ways — based on those backgrounds. That was engaging.
I also miss studying in the stacks and being a part of the King Hall Running Club. We ran around Davis and ran in the Turkey Trot a couple of years. We had a shirt with a logo that read, "Just sue it."
Who was your favorite King Hall professor?
All of them were my favorites, but a few stand out. Professor Cruz Reynoso was, and is to this day, a great storyteller. He taught beyond what was included in the book, with stories from his experience. I took Remedies from him, and he had a common-sense approach.
I had Dean Kevin R. Johnson for several classes, but Civil Procedure was particularly helpful when I was clerking for Judge Alvarez and working on motions for summary judgment. I remember him stressing the importance of Civil Procedure. I didn't understand just how important it was until I was actually dealing with motions and realized how many civil cases die at the motion stage.
Alberto Roldan '92 taught Trial Advocacy. He was approachable in class, and he broke down the different stages of a trial. The class allowed me to experiment. Oral advocacy is a skill that you need to hone early on. That skill has proven invaluable after law school.
Did you participate in student organizations?
I was involved with La Raza Law Students Association throughout my three years. I am still in touch with the friends I met in La Raza. It was a very active organization, holding Cesar Chavez Week and the Patiño Banquet every year. One year Dolores Huerta spoke during Cesar Chavez Week. La Raza was my family away from home.
I was a Law Review member my second year and then a Senior Articles Editor my third year. The experience of writing the Law Review Note and editing several articles as a Senior Articles Editor proved invaluable. Law Review helped to sharpen my research and writing skills, which have been instrumental in all of my jobs.
I also worked in the Immigration Clinic under the supervision of James Smith and Amagda Pérez. They were both great professors. One experience that stands out was filing a brief with the Board of Immigration Appeals. I met with the client, drafted the brief and filed it. For a law student, it was a priceless experience.
Do you have any advice for current law students?
Being able to attend law school is a privilege. Never forget that.
I encourage you to seek jobs and internships that sharpen your skills in research, writing, and oral advocacy. Those skills will be invaluable when you become an attorney.
How have you stayed involved with King Hall?
I'm on the Alumni Board. I also attend alumni lunch gatherings when Dean Johnson visits San Diego. That was something I started doing back when I was in San Francisco and Rex Perschbacher was dean.
In addition, I donate money to the law school. Recently, my wife Laura and I set up a scholarship for students who are veterans or have contributed to the Latino community. I had a wonderful experience and received a great legal education. I feel indebted, and I want to help out in whatever way I can. Especially since the cost of attending law school is so high now — so much higher than when I was a student. I felt it was the least I could do.
Anything else you'd like to add?
I would tell recent graduates and other alumni to stay involved and not to forget King Hall. The school is doing great things. You can continue to be proud of King Hall.
The views expressed in this profile do not necessarily represent the views of the U.S. Department of Justice or the United States.