Anel Carrasco, Class of 2011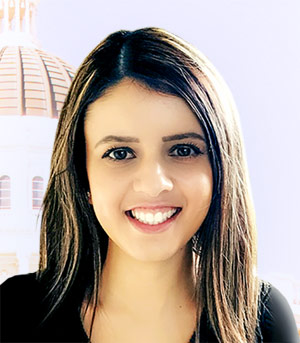 Anel Carrasco '11 recently opened her own immigration law firm in Sacramento. Carrasco has been very active with King Hall's Immigration Law Clinic, as both a student and an alumna.
Why did you decide to start your own firm?
It had always been my goal since law school to open my own practice. I wanted to be independent and take the challenge of managing my own business.  
What do you enjoy about your work?
The most rewarding aspect is being able to help those who are most vulnerable. Often, undocumented victims are unaware that possible remedies are available to them. It is fulfilling to see their faces light up when they become aware that there is a possible remedy for their case. Being able to make a major difference in someone's life is an incredible feeling. 
What have you learned so far from starting your own firm?
I learned that it is possible to accomplish your goals if you are persistent and you work hard.
What did you do after law school?
I worked at a private immigration law firm for five years. I have also volunteered at multiple organizations to provide legal assistance to our community.
What did you do before coming to King Hall as a student?
I was an undergrad, a peer advisor, and a Spanish tutor at UC Davis. I also did an internship at Centro Legal de la Raza in Oakland.
What is your favorite King Hall memory?
Helping clients at the Immigration Law Clinic. One memorable case had been at the clinic for almost ten years. We got the client Cancellation of Removal, and she was able to obtain a Legal Permanent Resident card. Afterwards, she thanked us and was very emotional.  
What class at King Hall served you particularly well?
In addition to the clinic, I really enjoyed Critical Race Theory with late Professor Keith Aoki. He was a great professor. In his class, we discussed racism and the challenges minorities face. This class inspired me to pursue a legal career in immigration law.
Did you participate in student organizations other than the Immigration Law Clinic?
Yes, I participated in La Raza Law School Association and the King Hall Legal Foundation. KHLF also gave me a grant for my first summer job.
Do you have any advice for current law students?
It is important to do internships not only to gain work experience, but also to help you decide what type of law you want to practice. I interned at the Federal Defender's Office and at the California Rural Legal Assistance Foundation. With the experience I gained, I was able to narrow down my decisions.
How have you stayed involved with King Hall?
I have volunteered to review applications for naturalization and DACA at the workshops the Immigration Law Clinic has offered. I keep in touch with KHOP (the King Hall Outreach Program) and last year, I also gave a presentation on immigration issues at an event organized by La Raza Law Student Association.
Is there anything else you would like to add?
I feel blessed and grateful to have attended King Hall. It is public service oriented and a great environment to be a part of.