Tani Cantil-Sakauye, Class of 1984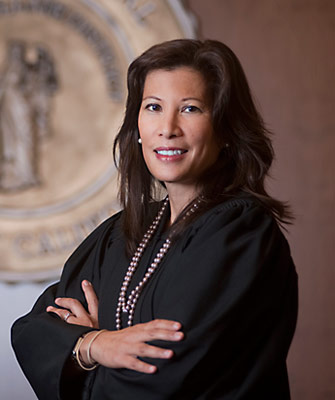 Tani Cantil-Sakauye '84 couldn't help but marvel at her own life story when Gov. Arnold Schwarzenegger introduced her to a Capitol crowd on July 22, 2010, the day after the governor nominated her to become Chief Justice of California.
"Governor," she said, "today you have changed my family's history. Now, from our daughters' perspective, they have a set of grandparents who worked in the fields. They have a set of grandparents who were interned for four years. They have grand uncles, uncles, and cousins who are war veterans. And their mother? Well, a man of remarkable vision nominated her to lead the highest court in California. Is history remarkable or what?"
Confirmed by voters the following November and sworn in on December 3, 2010, Cantil-Sakauye (pronounced cahn-TEEL sah-kah-OO-way) is the first Asian-American to lead the state's judiciary. In addition to serving as Chief Justice of the California Supreme Court, she oversees a state-wide judiciary that includes more than 1,700 judges, several hundred other judicial officers, 21,000 court employees, and a budget of roughly $4 billion.
Over the years I've heard many people describe their law school experience, and none of them hold a candle to the experience I had at UC Davis.
The youngest of four siblings, Cantil-Sakauye grew up in Sacramento and graduated from McClatchy High School before attending UC Davis as an undergraduate before earning her law degree from King Hall in 1984. Her professional experience includes service on the California Court of Appeal, Sacramento Superior Court, and Sacramento Municipal Court, as well as a stint in former Gov. George Deukmejian's administration and as a Sacramento deputy district attorney. She has retained close ties with UC Davis School of Law and has been an active supporter of the King Hall Outreach Program, serving as keynote speaker for the KHOP awards banquet in 2007 and hearing the KHOP Moot Court Oral Arguments at the end of the summer program in 2007 and 2008. She served as commencement speaker for the Class of 2011.
"I respect the Law School so much, and I think that the professors do a terrific job of not only preparing the law students but having them think about the law itself, and the development of the law and the judicial branch," she said. "I think the energy of the students is wonderful. Every time I speak, either to the first-year law students in Research and Writing, or when I go and speak on panels, they are so engaged. Over the years I've heard many people describe their law school experience, and none of them hold a candle to the experience I had at UC Davis."