Sister Simone Campbell, Class of 1977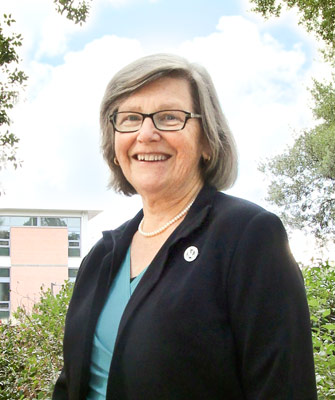 Sister Simone Campbell '77 is Executive Director of NETWORK, a Roman Catholic social justice lobby based in Washington, D.C. She is also an attorney, poet, author, and lobbyist. She founded the Community Law Center in Oakland, then became General Director of Sisters of Social Service, and went on to serve as Executive Director of the interfaith advocacy group Jericho before assuming her role with NETWORK in 2004. In 2010, Campbell became a national celebrity as a result of the "Nuns' Letter," which was written in support of the Affordable Care Act and signed by representatives of 59 congregations of Catholic Sisters. She also drew attention for her leadership of Nuns on the Bus, a NETWORK-organized advocacy tour of the United States. An invited speaker at the 2012 Democratic National Convention, she has also appeared on The Daily Show and Colbert Report, among other media appearances.
What did you do before coming to law school?
I entered my religious community in 1964 and took my first vows in 1967, graduated with a B.A. from Mount St. Mary's College in 1969, and took my final vows in 1973. I decided to come to law school after doing social work. I'm not a patient person and am way more about taking charge and getting something done. I also hate power imbalances. After doing some advocacy from a social work perspective, I knew I needed some more knowledge. I needed to go to law school.
Do you have any advice for "non-traditional" students thinking about law school?
I think the law needs advocates with varieties of experiences, because we who come with different backgrounds can apply the law in reasoned ways to new situations. Because I had a different background, my colleagues would say, "Simone, you make the most outrageous arguments!" But I would see situations and the law differently than they did.
What is your favorite thing about your work with NETWORK and why?
I love being able to make a difference for ordinary people, and I like getting the laws changed. The thing I am most proud of was writing the "Nuns' Letter," which was a letter supporting healthcare reform. President Obama said that the letter was the tipping point for passage of healthcare reform.
How did you become Executive Director at NETWORK?
I went to law school to do policy, but I found that I liked practicing, so I set up the Community Law Center in Oakland. I ended up working on family law and probate needs of the working poor in Alameda County from 1978 to 1995. I really enjoyed my work at the Community Law Center, but I knew that for it to be sustainable it needed new leadership. I was also ready to do something else, so one of my partners took it over. After that I was elected to be the head of my religious community for a five-year term, then worked on California state policy before I was recruited to my position at NETWORK. I have been in D.C. for 10 years now.
What class at King Hall served you well in your career choice?
Family Law. I hadn't expected to practice family law, but that is what I ended up doing and that class was important in understanding the dynamics of this particular field of practice. Family law is all about trying to create a better future for struggling families. Not an easy task!
Who was your favorite King Hall professor?
We had a bunch of good professors, but Daniel W. Fessler was a favorite. Fessler was demanding but also one of the few folks who could teach well using the Socratic method.
What was your favorite King Hall class?
The clinics that I participated in were probably my favorite "class." The clinics provided me with the opportunity to apply the theory of what we were learning to actual life. I had worked for 5 years after getting my BA and I missed that during my "hermit years" of law school. Clinics were a welcome antidote.
Did you participate in any student organizations or journals?
I did Law Review, where I wrote an article and was on the editorial board. I was also involved in the Women's Caucus. When I started at King Hall, it was the beginning of an influx of women coming to law school. We also created the Geriatric Caucus for students who would be 30 or order when they graduated, but we were just playing around!
What is your favorite King Hall memory?
Trial practice with Professor Jim Hogan was probably one of my favorite King Hall memories. We had a great class, and I had a great experience. When I was doing an actual mock trial, my prior life and law school life came together. Something finally clicked, and it just felt right.
Any advice for current law students?
There are a lot of needs in our nation and I encourage current students to be aware of the common good and of all these needs, and use the law to further our democracy.
Anything else you'd like to add about King Hall?
Getting a legal education was a tremendous preparation for the advocacy that I do, and being able to use my legal skills for the benefit of folks that are left out of the political process is a great gift.