Katie Briscoe, Class of 2012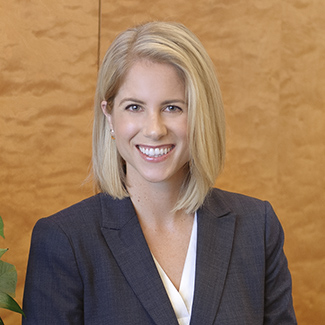 Katie Briscoe ′12 is a managing associate and employment law attorney at Orrick, Herrington & Sutcliffe LLP's Sacramento office. She has also taught Analytical and Persuasive Writing at King Hall.
What do you enjoy about employment law?
It's always a very human issue. It's relatable. Everyone has been an employee or employer at some time. It's about people—people doing stuff that's not always what you would consider wise. Employment law is unusual in that it has both a litigation and an advice and counseling component. The litigation aspect is fun in that it often involves complex procedural strategies. I also enjoy the advice and counseling side where we're trying to help structure businesses' employment practices to avoid liability.
What did you do after law school, and how did that lead into your current work?
I started working at Nossaman LLP, which is a mid-sized firm where I initially started doing both general litigation and employment law. I didn't like general litigation at all. I thought the facts were boring. Within my first year, I asked if I could exclusively do employment law. They were excited about that. I was at Nossaman for three years. Then a colleague moved to Orrick and recruited me over to Orrick's employment law practice where I am today.
What did you do before coming to King Hall as a student?
I earned my B.A. in political science at the University of San Diego.  I graduated a semester early, so I had six months off before I started law school. That was the freest time of my life. I lived at the beach and worked at a restaurant in San Diego.
What is your favorite King Hall memory?
After my first couple of weeks of school, I was walking through the halls in the old building, and I had this epiphany that King Hall really was the place that everyone had told me it was—it truly was a community where everyone was collegial and where professors cared about students and students cared about each other. I really loved the supportive and team-oriented feel. Everybody was friendly, and as I was walking through the halls, I would stop and have conversations with people I might not have met anywhere else. It's such a vivid memory.
What class at King Hall served you well in your career choice?
Two are up there. Professor Joslin's Employment Discrimination class, for obvious reasons. I felt like I came into employment law with a substantive understanding of the law, which I think gave me a leg up. Also, Professor Larson's Con Law classes. He was a wonderful professor who challenged students to think beyond the obvious or popular arguments. Being on the hot seat in his classes was good preparation for thinking on the fly in practice.
Tell me about your involvement in student organizations.
I was a Senior Articles Editor on the Law Review.  I had a love-hate relationship with Law Review. It was a big chunk of time. It was sometimes tedious. But it really did prepare me for managing deadlines and grinding out long hours. In practicing law, I have deadlines compound all the time. Also, I had friends on Law Review, so I got to see them and work with them, which was nice. Law Review also gave me an opportunity to meet people in the class below me who I wouldn't have had a chance to know otherwise.
I also was on Environs and Business Law Journal my first year. That was a helpful introduction to The Bluebook. In my second year, I took the Moot Court class, which was really fun and helpful.
Do you have any advice for current law students?
Take some elective classes to try to get an idea of what it's like to practice in different areas. I often interview and meet students who don't know what areas of law interest them and I think electives can give a nice a sneak peek into various practice areas. Also, I wish I had done a clinic for the practical experience, so that's something I recommend. It would have given me practice in litigation.
How have you stayed involved with King Hall?
Every year since I graduated, I've participated in King Hall's mock interview program, giving students practice with their interview skills. I have a colleague now who was one of my interviewees.
Last fall, I taught Analytical and Persuasive Writing. It was nice to see the students and be back in my old stomping grounds.
I'm also on the board of the King Hall Young Alumni Association. It's an informal group of practitioners in the area. We hold casual networking events every now and then  for alumni who graduated within about the last ten years.
I've also stayed in close contact with the friends I made in law school. Five of us get together regularly. All of them will be at my wedding next weekend. I'm very thankful for that.