Judge Stacy Boulware Eurie, Class of 1995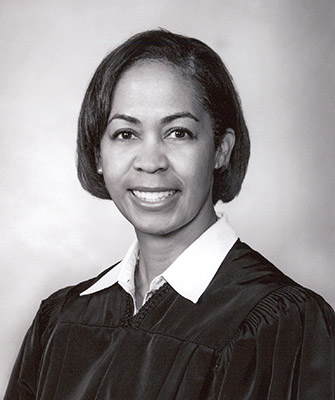 Judge Stacy Boulware Eurie '95 is a familiar face at King Hall. She has volunteered her time to swear-in bar exam passers at the annual Swearing-In Ceremony for recent graduates. She has delivered the keynote address for the Journal of Juvenile Law and Policy Symposium. She serves on the King Hall Alumni Board.
She is deeply committed to juvenile justice and was recently honored by Court Appointed Special Advocates (CASA) with the CASA IMPACT Award for her dedication and service to children in the child welfare and legal system.
Appointed to the Superior Court of Sacramento by Governor Arnold Schwarzenegger in 2007, Judge Boulware Eurie became Presiding Judge of the county's Juvenile Court in 2010.
What was your career path to arrive at your judgeship?
When I went into law school, one of my goals was to be a judge, but to become a judge you have to demonstrate competency. After graduation, I spent four years in a private criminal defense firm. I left that firm for the Attorney General's Office, where I worked in the employment defense litigation section and later led the Governmental Law section before being appointed. My intent was to have a well-rounded legal career. When I was first appointed, I was responsible for felony and misdemeanor cases, but now, as presiding juvenile court judge, I have the responsibility of overseeing the county's delinquency and dependency courts.
What did you do before coming to King Hall?
I studied English at UCLA, and I came straight from undergrad to law school. Between my junior and senior year at UCLA, I interned at a law firm where I had the opportunity to work on the People v. Lyle and Erik Menendez murder case, a very complex, high profile case that helped form my appreciation for the rule of law and bolster my commitment to go straight to law school.
What is your favorite aspect of your current work?
My favorite thing is the interaction with the broader community on behalf of children and families and the intellectual challenges presented by juvenile law. You have an obligation as a juvenile court judge to get out of the courtroom and be in your community to learn what the community needs to serve and support at-risk youth and those families and children who are involved in the juvenile court system. There are a variety of issues, needs and demands that come with the role of being a presiding juvenile court judge, and you have to balance community engagement and the evolving nature of juvenile law. I am humbled and invigorated to be able to serve the community in this way.
What is your favorite King Hall memory?
My favorite memory is the overall sense of community. As tough as it was during finals, particularly as a 1L, all the students appreciated that we were going through the same struggle and we were all trying to get there together. As challenging as law school is and was, there was a unique commitment to community that King Hall fostered for all of its students. You were not alone; you had the community to reach out to, peers who shared outlines, and helpful and accessible professors and deans who we knew were committed to our success.
Who was your favorite King Hall Professor?
Professor Edward Imwinkelried was my favorite because of his patience and precision. Professor Imwinkelried was able to forge a connection with students who come from a variety of different backgrounds, which was very significant for me. Setting aside his many awards and recognition, he was someone who always made time for his students and was the embodiment of the King Hall community.
What class at King Hall served you well in your career choice?
I think Civil Procedure has helped me a great deal. Professor Rex Perschbacher was really able to impart the nature of Civil Procedure and how you methodically proceed through court in a civil setting. The law is designed in a very intentional and specific way for parties to have their day in court, and Civil Procedure helped me appreciate both the vastness of the law and how a single thread ties it all together.
What types of student organizations did you participate in, and how did they enhance your King Hall experience?
I participated in the Black Law Students Association (BLSA), which provided a community of support for others and me. King Hall is very welcoming and BLSA provided me with a unique support network that was instrumental in my law school experience.
Do you have any advice for current law students and those who have just graduated?
Recognize the privilege we have to serve public and private citizens. With our privilege comes the responsibility to be mindful of our roles in the legal system. Whether we are in the courtroom or the grocery store, we need to take our responsibilities seriously. We don't have to take ourselves seriously, but we must be mindful of how we interact with others and carry ourselves. Also, maintain the connection with King Hall, and don't be afraid to reach out. We all want to help those coming behind us, and our supportive community is still there even after you graduate.