Grace Arupo Rodriguez, Class of 2002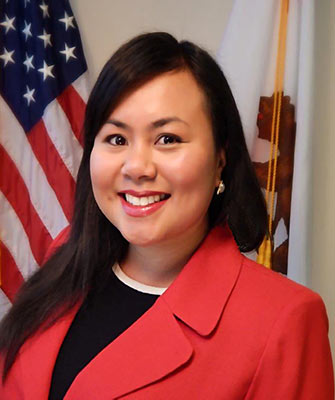 Grace Arupo Rodriguez '02 is the Deputy Director of Legal Affairs for California Governor Jerry Brown's Office of Business and Economic Development (GO-Biz). As the Deputy Director of GO-Biz, Arupo Rodriguez is the general counsel for GO-Biz's various economic development programs which range from the Film Commission to Tourism to International Trade and Foreign Investment to California's Innovation Program.
What led you to work for the Governor?
I started at Downey Brand and was part of the business transaction group for over four years. Then I was headhunted to work as corporate counsel for the California Independent System Operator (CAISO), which manages 80 percent of the flow of electricity over California's and a small part of Nevada's power grid. I worked there for five years and developed CAISO's pro-forma agreements, implemented its intellectual property management system, streamlined data requests and confidentiality processes, led several bond offerings and was instrumental in the move of the company to its new headquarters. However, the job was in Folsom, and I missed the vibe of downtown Sacramento. So, I started looking for something new and, fortunately, was hired as a Senior Deputy City Attorney with the City of Sacramento focusing primarily on finance. During my time there, I happened to have lunch with Mona Pasquil, Governor Brown's Appointments Secretary, whom I had met through my tenure as President of the Asian Bar Association of Sacramento, and she suggested I apply for an appointed position. I had no intention of chatting with her about the appointment process. I genuinely thought she was a great lady and I just wanted to re-connect with her. Long story short, I applied, interviewed, and was appointed by Governor Brown in May 2013. The moral of this story: always keep in touch with your network. You never know what opportunities may come your way!
What do you do as Deputy Director of GO-Biz?
I wear multiple hats and work on a range of legal and policy issues. For example, I was one of the architects in determining how to implement the California Competes Tax Credit (CCTC) program. In my legal capacity, I work on public record requests, conflict issues, compliance issues and regulatory drafting. GO-Biz, as the one-stop shop for economic development for the state, has a lot of different programs within it, ranging from travel and tourism to international trade. Because of this structure, I am privileged to work with a diverse group of businesses from incubator start-ups, to hydrogen fuel cars, manufacturing and small businesses. There's always something new.
What is your favorite thing about your current work?
I love seeing what I work on come to life. One really exciting project I worked on is the California Competes Tax Credit (CCTC) program. I reviewed and commented on the statute that codified the program, worked on the regulations that implemented CCTC and even participated in the first rounds of the applications and review process. Then, to see the businesses get awarded the credit and grow in the state by hiring and/or investing in California is so rewarding. It's awesome to be able to look at something that is having a real world impact and know that I helped make it happen!
Who is your favorite King Hall Professor?
Professor Lisa Pruitt was my favorite professor. I had her during her first year of teaching at King Hall, and I felt like we grew together. She is very welcoming--she even hosted us at her house! It was nice to be able to see both her personal and professional side. She was (and still is) so approachable and really wants to know about you. She sends out an alumni newsletter to her former students that I look forward to getting every year.
What was your favorite King Hall class?
My favorite class was Civil Procedure taught by my other favorite Professor (now Dean) Kevin Johnson. Professor Johnson taught in a clear and very logical manner. I really appreciated that he wasn't out there to trick you (although I can't say any King Hall professor ever had that agenda). He gave you all the tools to succeed and was always available for questions. He even shared old exam questions and answers to assist with studying.
What class did you take at King Hall that served you well in your career?
Legal Research was probably the most practical class I took in law school. Knowing how to research -- and research well -- is very important in any practice. The class sometimes tends to get lost in the stress that is the first year of law school, but if you take the time and put work into the class, you get a lot out of it.
Any advice for current law students?
Get to know your professors. They have personal stories and experiences to share.
Anything else you'd like to add?
I really appreciate King Hall and the legal education I received there so much more as a graduate. I want to thank all the professors who helped educate me! It's not until after you graduate that you realize what a great fundamental foundation you received, and I feel so fortunate to have graduated from such a respected and collegial law school. A special thanks to Dean Johnson, who makes a strong effort to stay connected to alums, to visit with us, and to genuinely want to know what's going on in our lives. You don't just graduate from a law school -- you join the King Hall family.