Yeoryios C. Apallas, Class of 1972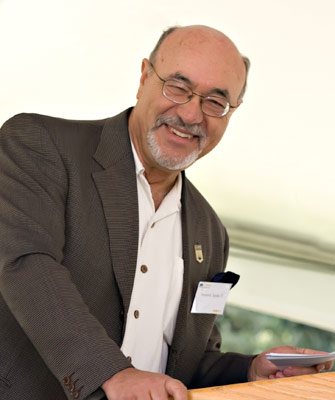 Yeoryios C. Apallas still keeps an old shoeshine brush in a place of honor on his desk. It's a reminder of who he is, where he came from, and why the King Hall alumnus has spent the bulk of his professional life in public interest law.
Born in Greece, Apallas immigrated to the United States with his family when he was 12 years old. Neither he nor his parents spoke English. To get by, his mother and father took jobs cleaning in a hotel, and Apallas shined shoes on the corner outside. Though each day was a struggle for the family, Apallas was determined to succeed. He learned English from watching television in the hotel lobby and did well enough in school to earn a scholarship to Pomona College, where he received his B.A. in 1969. Encouraged to study law by a professor there, Apallas applied and was accepted to the UC Davis School of Law, where he received the education and training that launched him into a highly successful legal career.
After earning his J.D. degree in 1972, Apallas went to work as a deputy attorney general with the California Department of Justice, where he worked on high-profile cases concerning oil company violations of price-control regulations and earned a Distinguished Service Award from the National Association of Attorneys General. He successfully defended against several challenges to bequests set to benefit charitable foundations, including Beryl Buck's $430 million bequest to the poor and needy, which won for him the State Attorney General's Award for Excellence. He also successfully defended Inez Mabie's $17 million bequest to create the Mabie Foundation, which in turn established the Law School's Mabie-Apallas Public Interest Chair as a testament to his dedication.
Today, Yeoryios Apallas can look back with satisfaction on a 28-year career in government knowing that he never forgot what it was like to struggle to survive and that he won more than his share of legal battles on behalf of the poor and needy. Always eager for new challenges, Apallas now serves as Vice President and General Counsel for S&P Company. The shoeshine brush remains on his desk.