Angela Brown Bonifacie, Class of 1987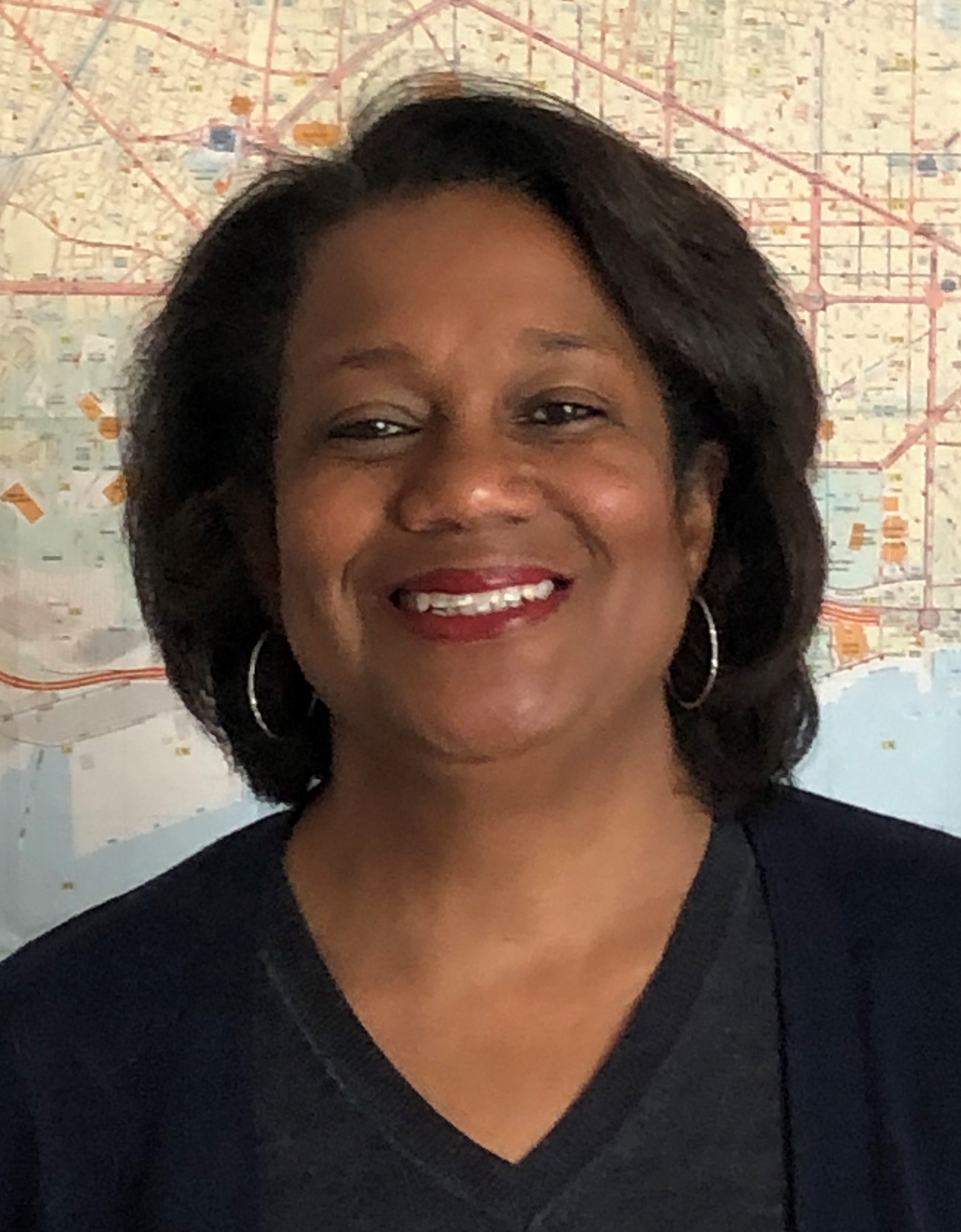 Angela Brown Bonifacie '87 is currently Vice President, International Counsel for ADP, a global Human Capital Management outsourcing company that provides payroll and human resources services, where she is the lead negotiator in Europe, Middle East and Africa ("EMEA") for high value multinational contracts. Previously, she was a Partner in a New York captive law firm for Advance Publications, concentrating on human resources management, training and litigation. Prior to that, she was an Assistant General Counsel to the former The Times Mirror Company, which started her journey to the East Coast. Her career has taken her from the West to East Coast of the United States, to France, back to the U.S., and now currently in Barcelona, Spain.
What was your path from King Hall to vice president of a multinational corporation? 
After law school, I worked in Los Angeles for nine years, starting first as a Research Attorney for the Honorable Thomas J. Nuss, in Los Angeles Superior Court. Following my work with Judge Nuss, I worked as a litigator for eight years, concentrating on insurance defense, product liability and employment law. During my time at one of the last law firms I worked for in Los Angeles, I was seconded to The Times Mirror Company, the former owner and publisher of the Los Angeles Times, which at the time took a progressive approach on diversity and inclusion. I worked there for four months, through a program sponsored by the Minority Corporate Counsel Association, where I was exposed to all levels of The Times Mirror Company with the aim of the company sending my firm business following my return. The Times Mirror Company moved me to New York for six weeks during that time. When I returned to my firm, I would be the company's contact person. Then, six months later, The Times Mirror Company hired me away from my firm, and moved me to New York to work in its East Coast based businesses (e.g., Newsday, Matthew Bender). After a year and a half, I was recruited to work for Sabin, Berman & Gould, which at the time was the captive law firm for Advance Publications, which is owned by the Newhouse publishing family, where I worked for eight years and became Partner within the first two years.
After living in New York for three years, I met my then French husband in Queens. From the day I met him, he wanted to move back to France. I wasn't ready for such a move until we had a child six years later. Wanting to spend time with our child, I gave up my partnership and moved to France, where I proceeded to take three and a half years off. While living in France, I met an American friend who worked for ADP in France, who informed me that they were looking for a lawyer on a temporary basis. I accepted the temporary position there as Legal Counsel supporting ADP on a new payroll offering for small to mid-sized multinational companies. That temporary position turned permanent and has lasted more than eleven years now, taking me back to the U.S. to work near the corporate headquarters of ADP, where I was promoted to Senior Legal Counsel. After three years, I was promoted to Vice President, International Counsel and was moved to Barcelona, Spain where I am the lead lawyer in EMEA negotiating high value commercial contracts.
What do you enjoy about your job?
The variety of people, issues, perspectives and negotiating approaches. We have a great group of lawyers in Barcelona, from all over the world. I enjoy the different perspectives. I enjoy contracting. It's interesting to see the different cultural approaches. We all want to achieve the same outcome and to approach it with respect. In my opinion, contracting in the United States is much more contentious. We are more litigious, so we feel we need terms to protect ourselves. As most jurisdictions in Europe are based on civil law, the focus is not necessarily on looking for those protections in a contract as they have them in the statutes, but more on those items that allow room for interpretation and which need to be clarified in a contract. I also enjoy working in Barcelona as it reminds me of Los Angeles, where I was born, as it has the mountains, the sea and great weather!
How have you used your positions to do good?
Throughout my career, I have been a mentor, both formally and informally, personally and professionally. I have mentored an at-risk child who was very intelligent but faced peer pressures as it wasn't cool to be smart; two young women who were in the New York foster care system; and professionally at ADP, women who were/are looking to advance their careers within the company. I have been recognized as a Role Model in ADP's International Women Inclusion Network. Early in my career, I provided legal advice to AIDS patients. I am active in ADP's Corporate Social Responsibility initiatives in Barcelona focusing on Associate Engagement. I am also currently Secretary and Governance Committee Chair of the Board of Trustees for the American School of Barcelona, the school my son is currently attending.
How have you experienced the pandemic in Spain?
We were hit hard. Along with Italy, Spain was the hardest hit initially in Europe. In March, we had a very strict lockdown until June. For my son and me, it hasn't been that bad, because we have space, including space outdoors and two dogs that we can walk. For a period of time, people were able to walk their dogs but could not go outside with their children. Most people here in Barcelona live in apartments. I have colleagues living in one-bedroom apartments with young children and little to no outdoors space. That's much harder. I feel fortunate. Currently, we are in a limited lockdown where we are confined to our neighborhoods over the weekend and with a 10:00 p.m. curfew. Bars and restaurants remain closed, except for take out. Hair salons are open though. Go figure. Fortunately, my son is able to go to school where they are utilizing a pod model, limiting his contact to max 44 students in the 10th grade. So far so good. I have been working from home since March 12, 2020 and do not anticipate going back to the office until sometime mid next year or later. Overall, mask use is prevalent. However, given the social nature of Spaniards, it proves difficult to avoid large family or social gatherings.
Why did you choose King Hall?
They chose me. They reached out to me, and I applied. I was admitted into UCLA, but wanting to avoid the temptation of my friends, decided to leave Los Angeles. I took a leap of faith and accepted King Hall's offer to attend before even visiting the campus. Until my father drove me up to start classes, I didn't realize how rural Davis was. I cried! I'm glad I made the decision I did to attend King Hall. It was tough at times as looking back I probably didn't have the maturity level needed when I first started. However, with time I learned to adapt and made lifelong friends. It's a small school with a nice environment. It was very conducive to studying without the heavy competitive vibe. What it stood for as King Hall also meant a lot to me.
What is your favorite King Hall memory?
Playing Pac-Man. Cardozorama. Hanging out at Café California. Playing racquetball with classmates and Professor Rabin. I believe Doug Akay and I have a plaque hanging somewhere in one of the gyms.
Did you participate in student organizations?
I was a BLSA member, though I have to admit not very involved. During my first year I was very involved with the American Bar Association (ABA), with a focus on increasing student memberships. As a result, I was awarded the National Membership Award.
How have you stayed involved with King Hall?
I donate from time to time. I keep in touch with friends from time to time like Professor Lisa Ikemoto, Kathy Fung, Valerie and Carl Larson, Tina and Omel Nieves, Gretchen Pemberton, Brandon McDonnell, Cheryl Nathanson. Though I have lost touch, I arranged a summer internship for a first-year King Hall student in the early 2000s after he randomly reached out to me. I visited King Hall a few years ago where Lisa was my tour guide. It's impressive. It's doubled in size. It was nice to see the progress.
Do you have any advice for current law students?
Keep an open mind. Be open to different opportunities even if it is something you never considered before. I was convinced early in my career that I wanted to be a litigator because that in my mind was what real lawyers did. I fulfilled that dream but quickly realized that it was not for me, which led me to explore employment law and working in-house. Also, I didn't think I would work outside of Los Angeles, California. I was focused on graduating from King Hall and getting back to L.A. But when the opportunity for me to work with The Times Mirror Company arose, which included moving to New York, I seized it and ran with it to where I am now.
One thing I didn't do as much as I could have was to develop a network and maintain business relationships. I was and am a worker bee. I thought as long as I worked hard good things would follow. Yes, that is true to a certain extent but in parallel you need to develop relationships and give back.
It's also important not to limit ourselves. People of color tend to do that or allow people to do that for them. There are so many opportunities where you can use a law degree that don't always include practicing law. I have friends who have gone to law school who are not practicing law but are using the skills they learned as a lawyer to be successful. If you're capable and willing, you can do anything.
When I left my partnership, my boss at the time said I was making the biggest mistake of my life and others, including some family members also saying I was crazy. For me, I had a young son I wanted to spend time with. I wanted to know my son. I told myself, I've been pretty successful so far, licensed in California and New York, why wouldn't I be successful going forward? I believe I proved them wrong, having now successfully lived and worked in three countries, raising a son who is multilingual (English, French, Spanish and some Catalan) and both of us learning and growing along the way.
Know that there are different paths and don't be afraid to take them.