Amal Abu-Rahma, Class of 1997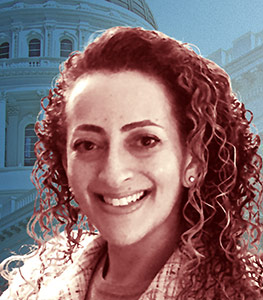 Amal Abu-Rahma is a 1997 graduate of King Hall and is Senior Counsel for California's Department of Managed Health Care, Office of Plan Licensing, where she works with HMOs, PPOs and other health care service plans, assisting them with licensing and compliance standards under the federal Affordable Care Act as well as California's Knox-Keene Health Care Service Plan Act.
What did you do before coming to King Hall?
I majored in Communications Studies at UCLA because I thought I wanted to go into public relations. I was fortunate to work part-time as the Assistant Public Relations Director of the American Cancer Society and saw the need for advocacy, which got me interested in becoming a healthcare attorney!
How did you arrive at your current position as Senior Counsel for the Department of Managed Health Care's Office of Plan Licensing?
During my time in school I worked for San Fernando Valley Neighborhood Legal Services and Legal Services of Northern California in their Administrative Law units. I asked specifically to be put on healthcare cases. That experience, along with clerking at a personal injury law firm, got me my first job after law school representing doctors in medical malpractice cases. I really wanted to advocate for consumers of health care, but I realized early on that most doctors don't want to hurt people, and the best way to help consumers is to ensure that frivolous lawsuits against doctors aren't filed. My practice then moved into representing hospitals in reimbursement disputes, which eventually led me to the Department of Managed Health Care.
What is your favorite thing about your current work and why?
My favorite thing is representing the State of California in all the various aspects of the managed healthcare arena. The need for health care starts with the consumer, and may funnel through an HMO or PPO, then splinters to include physicians, and hospitals, and pharmacies, etc. All of these players are supposed to circle back to servicing the consumer, and the cycle continues. Ensuring the circular beginning and the end, if you will, of a healthy healthcare ecosystem (no pun intended) is incredibly rewarding.
Who was your favorite King Hall Professor and why?
If I had to pick one, Dean Kevin R. Johnson would be my favorite. He always made us think introspectively about how the law affects people on the human level. He made us realize that the law is not just words on paper. It's not just who won or lost, politically. Instead, he shaped how we thought about the law and its effects on real people. I still carry his lessons with me to this day in my own practice.
What was your favorite King Hall Class and why?
Contracts with Professor Edward Imwinkelried was my favorite class because he was able to take a dry subject and make it easy to understand and apply. His teaching style was also very dramatic and illustrative. He took Contracts and made it very memorable, to the point where you could hear his voice talking about "offer" and "counteroffer" in your head during an exam. I still use the lessons he taught us and apply them to the contractual obligations HMOs have toward consumers, physicians, hospitals, etc. It all applies.
What class did you take at King Hall that served you well in your career?
I took Juvenile Justice, which actually really helped me pursue health care. When I took Juvenile Justice, it was a class requirement that we go to the local juvenile detention center. I was on-site and got to see kids from 12 to 18 detained and imprisoned, and I couldn't help but think that they were just children. They were all sleeping on cots like boy scouts; just kids trying to figure out how to pass the day. It made me realize what Dean Johnson tried to instill in us; that the words on the paper, the laws, weren't helping these hundreds of kids packed into this gym-like, sterile environment. And you might be wondering how this translates to my practice in health care, but so many of the problems that plague the juvenile justice system are the same problems that plague the healthcare system. If we can remember the human element, those problems might get fixed.
Did you participate in any student organizations or journals?
I was a certified law student in King Hall's Immigration Law Clinic. My time with the Immigration Law Clinic was a very transformative experience because I was able to see how much good the laws and democratic nature of our country can do, as well as the importance of the introduction of other cultures into our society.
What was your favorite King Hall memory?
My favorite King Hall memory was attending the National Black Law Students Association convention in Atlanta, Georgia. King Hall sent a delegation, and I was fortunate enough to attend and be a part of the dialogue of other minority students who came together to support each other in the difficult task of pursuing a legal degree.
Anything else you'd like to add about King Hall, your career, or your accomplishments?
Yes. There is one thing, affecting my work every day. Everyone has a different view on the Affordable Care Act, and despite any personal opinion people may have, access to, and the delivery of, health care in this country had to change. Being able to be on the front line of the implementation of that change is an incredibly gratifying and humbling experience. There is more work to do. But as they say, "Rome was not built in a day."