Law Library Notices & Deadlines
Welcome to Fall Semester
Posted Aug 24, 2020
How to contact a reference librarian
Reference librarians are available for remote assistance Monday to Friday from 8 a.m. to 5 p.m. The library is closed on Saturday and Sunday.
Contact a reference librarian as follows:
UC Davis law students may also make reference appointments via Zoom. Schedule an appointment at calendly.com/lawlibref.
Circulation desk hours
The circulation desk will be open Monday to Thursday, 8 a.m. to 8 p.m., and Friday, 8 a.m. to 6 p.m. Due to COVID-19 requirements for quarantining of print materials, there are no physical course reserves this semester.
Seat reservation system
The law school has instituted a seat reservation system for library seating. You can access this system here or from the "Book a Study Space" box on our website. As a reminder, you must wear a face covering when sitting at your carrel or in the Main Reading Room. Do not share your reserved study space. Do not sit at a carrel or study seat that you have not reserved. Not all seats are made available for reservation in order to accommodate social distancing. Library study spaces will be cleaned each day after hours. There are wipes at the Circulation desk. Feel free to use them to wipe the seat area where you plan to study.
How to book a seat
All Carrels are booked for the entire day. Seats in the Main reading room may be booked in half days. Each Student can book up to 3 "Carrel Days" per week.
Any Seat (row) that is even partially Green can be booked. When you click in the Green Area, the row will turn Yellow. Entirely Red rows mean the Seat is Reserved, and not available for Booking.
At the bottom of the page click on "Submit Times". Choose your student status and then click on "Submit my Booking."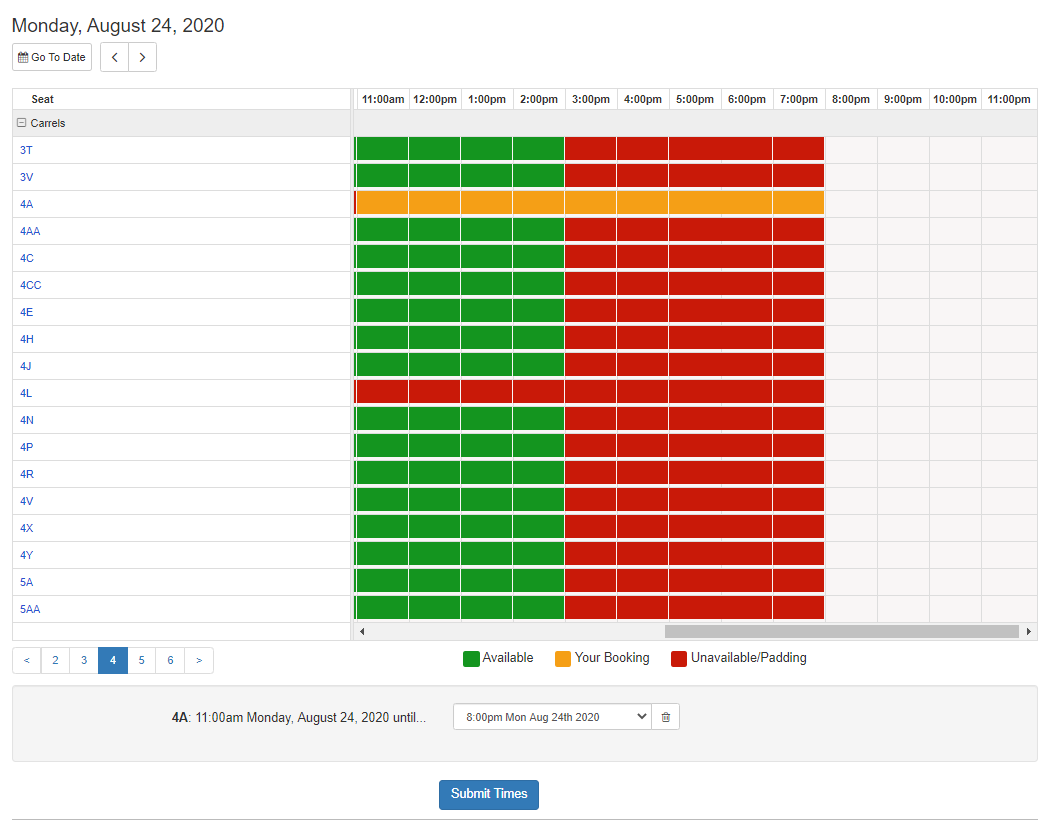 Email us at lawlibref@ucdavis.edu if you have questions.