Faculty Scholarship
Professor Frank Testifies Before California Senate Committee on Environmental Quality
On February 22nd, Professor Richard Frank testified before the California Senate Committee on Environmental Quality in Sacramento, California. The hearing, "The Federal Clean Air Act: California's Waivers: How California's Strict Air Quality Standards Have Created Economic Growth and Improved Public Health" sought to understand the impact California's regulation of tailpipe emission on the public health and economy of the state. Professor Frank opened the proceeding with a history of air quality legislation and California's waivers under §209 (b) of the Federal Clean Air Act.
California imposed the first tailpipe emission standards in 1966, a year before the first federal legislation (the Air Quality Act), and pursued aggressive air pollutant regulation, including the passage of the Mulford-Carrell Act in 1967, which created the Air Resources Board; and the promulgation of the nation's first oxides of nitrogen emissions standards for motor vehicles in 1972.
Congress, when enacting the Clean Air Act, acknowledged California's pioneering role in regulating air quality and, despite otherwise explicit preemption of motor vehicle emissions regulation by the states, created a broad carve-out for California to continue regulating emissions. Put another way, Congress recognized California's role, and consciously allowed the state to engage in what Supreme Court Justice Louis Brandeis called, "[O]ne of the happy incidences of our federal system that a single courageous State may, if its citizens choose, serve as a laboratory and try novel social and economic experiments...."
In addition to Professor Frank's testimony on the history and application of California's waivers under §209 (b), the Committee also heard from perspectives from state and local regulators, healthcare professionals, and researchers.
Professor Frank's written testimony can be found here .
More information on the hearing can be found here and the agenda here.
Professor Frank Publishes Op-Ed on Competing Drought Relief Bills
On November 8th, Professor Richard Frank published an op-ed in the Sacramento Bee regarding two competing bills designed to provide drought relief to California agriculture.  Frank summarizes HR 2898, sponsored U.S. Representative David Valadao and fellow House Republicans, and S 1894, a competing measure sponsored by Senators Dianne Feinstein and Barbara Boxer. Frank ultimately endorses the Senate approach.
"In sum, the House bill would simply reallocate a portion of California's finite water resources from one important use - preserving the environment - to another: agriculture. The Senate bill, by contrast, would expand the pie of available water supplies through federal support of a wide array of worthwhile water storage and conservation initiatives."
Professor Frank Testifies Before U.S. Senate Committee on Energy and Natural Resources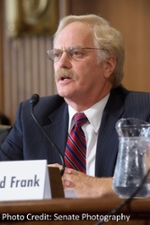 On October 8, Professor Rick Frank testified before the U.S. Senate Energy and Natural Resources Committee in Washington D.C. He did so in response to an invitation from Senate Energy and Natural Resources Committee Chairman Lisa Murkowski (R-Alaska) and ranking Democratic Committee member Martha Cantwell (D-Washington). 
The subject of Professor Frank's testimony and the Committee's hearing was two competing bills designed to provide "federal drought relief" to California--H.R. 2898 (Valadeo) and S. 1894 (Feinstein/Boxer).  The focus of the Valadeo bill is to make more water available to agricultural users in California's Central Valley by amending various federal environmental laws and otherwise shifting finite water supplies from environmental purposes to agricultural purposes.  The Senate bill, by contrast, focuses on a more broad-based strategy of making more water supplies available through increased surface and groundwater storage facilities, conservation measures, storm water capture, and related options.  Professor Frank testified that the more comprehensive approach embodied in S. 1894 holds more promise than the narrower focus of H.R. 2898. The full text of his testimony may be viewed through the link below.
Professor Frank Publishes Essay on California Supreme Court Climate Change Cases
On September 28, Professor Frank published an essay in the Daily Journal on three cases pending before the California Supreme Court that call into question whether climate change concerns should be addressed as part of the environmental review process required by the California Environmental Quality Act (CEQA).
"CEQA is the most powerful environmental assessment law not just in the United States, but the world," Frank writes, in part because unlike the National Environmental Policy Act, it requires the state not only to identify adverse environmental impacts of a proposed project, but also to prevent or mitigate them. The three cases, Center for Biological Diversity v. California Fish and Wildlife, Ballona Wetlands Land Trust v. City of Los Angeles, and National Forest Foundation v. San Diego Association of Governments, "all reflect the broad uncertainty that currently exists among state and local officials, the development community, conservation organizations, and environmental attorneys regarding the CEQA/climate change nexus," writes Frank.  "The court's decisions in those cases should go a long way towards integrating CEQA and California's climate change law and will bring welcome clarification as to how projected climate change impacts are properly analyzed under CEQA."
Professor Frank Files Brief on California Supreme Court Environmental Case
On September 8, Professor Frank filed a friend-of-the court brief  with the California Supreme Court in the pending case, San Diego Association of Governments v. Cleveland National Forest Foundation. 
The case involves the intersection of climate change law, transportation policy, and the California Environmental Quality Act (CEQA).  The specific legal question in the case--and the subject of the friend-of-the-court brief--is whether an environmental impact report prepared under CEQA in connection with a proposed regional transportation plan must analyze the plan's consistency with greenhouse gas emission reduction goals set forth in separate state law.  The brief argues that such consistency analysis is required under CEQA.  Professor Frank filed the brief on behalf of California's Planning and Conservation League and the Council of Infill Builders, a non-profit organization of real estate professionals committed to improving California through infill development practices.
Professor Frank Publishes Op-ed in San Francisco Chronicle on Water Law Reform
In April, Professor Frank published an op-ed in the San Francisco Chronicle on the need to reform California's water laws. He included suggestions as to how the system could be modernized and improved, including recognizing water as a public resource, improving requirements for monitoring and reporting water diversions, creating fixed terms for water rights permits, making water transfers easier and quicker, giving the environment a seat at the water allocation table, and increasing water rights enforcement.
Lessons from the West: Fracking and Water Resources
This short paper, "Lessons from the West: Fracking and Water Resources," was prepared by Miles Hogan, CELPC Environmental Law Fellow.  The paper broadly examines how water law in western states applies to the overall use of water in fracking, and it raises issues with current and future regulation and litigation in this area.  The paper was compiled for a presentation given on November 9, 2012 at a workshop put on by Dividing the Waters and The National Judicial College.  This project demonstrates CELPC's commitment to partnering with educators and policy institutes, and to providing a meaningful dialogue in key areas of environmental law and policy.
California's Proposition 37: A Legal & Policy Analysis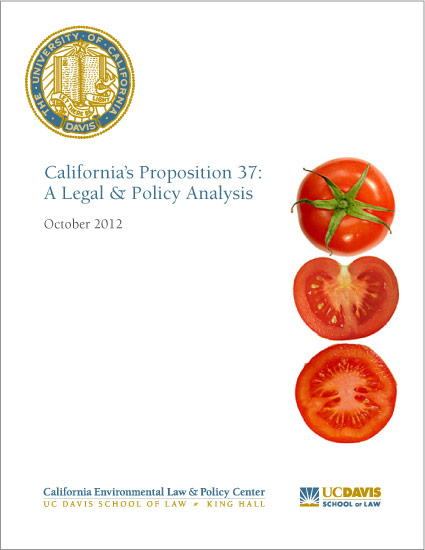 CELPC has published a new white paper examining California's Proposition 37, formally titled "The California Right to Know Genetically Engineered Food Act."  Proposition 37 is an initiative measure that will appear on California's November 6th, 2012 general election ballot.  The report does not argue in favor of or against Proposition 37.  Instead, it is intended to serve as an independent and objective analysis of the initiative, to help inform the public debate over the measure and be of use to California voters and interested observers.
Proposition 37 is the most important environmental measure appearing on California's crowded  November election ballot.  It is attracting national attention as well as millions of dollars in campaign contributions from both supporters and opponents of the initiative.  That's because the proponents of Proposition 37 hope, and those opposing the measure fear, that if enacted the initiative will prompt similar laws in other states and, perhaps, at the national level.
Hopefully, "California's Proposition 37: A Legal & Policy Analysis" will contribute to a thoughtful public debate over this important initiative.
Rocky Mountain Farmers Union v. Goldstene: Brief of Amici Curiae Professors of Environmental Law in Support of Appellants
In June 2012 a group of environmental law professors, including Professor Rick Frank, submitted a brief in support of the California Air Resources Board's low carbon fuel standard.
Defining Good Infill
A Convening Report on SB 226 and the California Environmental Quality Act by Ethan N. Elkind, Rick Frank, and Sean Hecht.
Opinion Editorials regarding Proposition 26
In November 2010, California voters enacted Proposition 26, an initiative measure that was largely overshadowed by other, more heavily-publicized measures on last fall's general election ballot. But Proposition 26, which mandates that most future state and local fee systems can only be enacted by a two thirds vote of the California Legislature or local voters, will have a profound effect on a variety of public health, safety and environmental protection measures. Proposition 26 is likely to have an especially pronounced effect on California environmental programs, which in recent years have relied heavily on "polluter pays"-based fee systems to fund them.
Set forth below are two opinion columns relating to Proposition 26: the first, written by King Hall Law Professor Christopher Elmendorf, suggests that the initiative measure may be unconstitutional under California's "single subject rule." The second, penned by California Environmental Law & Policy Center Director Richard Frank, discusses the background of Proposition 26, as well as its particular, anticipated effects on a variety of state and local environmental programs.
Other Recent Publications