Faculty Scholarship
Professor Frank Files Brief on California Supreme Court Environmental Case
On September 8, Professor Frank filed a friend-of-the court brief  with the California Supreme Court in the pending case, San Diego Association of Governments v. Cleveland National Forest Foundation. 
The case involves the intersection of climate change law, transportation policy, and the California Environmental Quality Act (CEQA).  The specific legal question in the case--and the subject of the friend-of-the-court brief--is whether an environmental impact report prepared under CEQA in connection with a proposed regional transportation plan must analyze the plan's consistency with greenhouse gas emission reduction goals set forth in separate state law.  The brief argues that such consistency analysis is required under CEQA.  Professor Frank filed the brief on behalf of California's Planning and Conservation League and the Council of Infill Builders, a non-profit organization of real estate professionals committed to improving California through infill development practices.
Lessons from the West: Fracking and Water Resources
This short paper, "Lessons from the West: Fracking and Water Resources," was prepared by Miles Hogan, CELPC Environmental Law Fellow.  The paper broadly examines how water law in western states applies to the overall use of water in fracking, and it raises issues with current and future regulation and litigation in this area.  The paper was compiled for a presentation given on November 9, 2012 at a workshop put on by Dividing the Waters and The National Judicial College.  This project demonstrates CELPC's commitment to partnering with educators and policy institutes, and to providing a meaningful dialogue in key areas of environmental law and policy.
California's Proposition 37: A Legal & Policy Analysis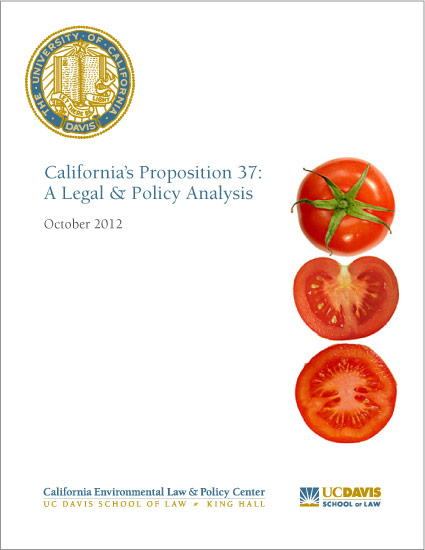 CELPC has published a new white paper examining California's Proposition 37, formally titled "The California Right to Know Genetically Engineered Food Act."  Proposition 37 is an initiative measure that will appear on California's November 6th, 2012 general election ballot.  The report does not argue in favor of or against Proposition 37.  Instead, it is intended to serve as an independent and objective analysis of the initiative, to help inform the public debate over the measure and be of use to California voters and interested observers.
Proposition 37 is the most important environmental measure appearing on California's crowded  November election ballot.  It is attracting national attention as well as millions of dollars in campaign contributions from both supporters and opponents of the initiative.  That's because the proponents of Proposition 37 hope, and those opposing the measure fear, that if enacted the initiative will prompt similar laws in other states and, perhaps, at the national level.
Hopefully, "California's Proposition 37: A Legal & Policy Analysis" will contribute to a thoughtful public debate over this important initiative.
Rocky Mountain Farmers Union v. Goldstene: Brief of Amici Curiae Professors of Environmental Law in Support of Appellants
In June 2012 a group of environmental law professors, including Professor Rick Frank, submitted a brief in support of the California Air Resources Board's low carbon fuel standard.
Defining Good Infill
A Convening Report on SB 226 and the California Environmental Quality Act by Ethan N. Elkind, Rick Frank, and Sean Hecht.
Opinion Editorials regarding Proposition 26
In November 2010, California voters enacted Proposition 26, an initiative measure that was largely overshadowed by other, more heavily-publicized measures on last fall's general election ballot. But Proposition 26, which mandates that most future state and local fee systems can only be enacted by a two thirds vote of the California Legislature or local voters, will have a profound effect on a variety of public health, safety and environmental protection measures. Proposition 26 is likely to have an especially pronounced effect on California environmental programs, which in recent years have relied heavily on "polluter pays"-based fee systems to fund them.
Set forth below are two opinion columns relating to Proposition 26: the first, written by King Hall Law Professor Christopher Elmendorf, suggests that the initiative measure may be unconstitutional under California's "single subject rule." The second, penned by California Environmental Law & Policy Center Director Richard Frank, discusses the background of Proposition 26, as well as its particular, anticipated effects on a variety of state and local environmental programs.
Other Recent Publications