Tribal Court Administrator Training
400 Mrak Hall Drive, Davis, 95616
Jan 23, 2020, 8:00:00 AM to Jan 24, 2020, 5:00:00 PM
 Welcome to the Tribal Court Administrator Training 
---
Overview 
The Tribal Justice Project welcomes all current tribal court administrators or those interested in tribal court administration to attend our upcoming training. This training provides critical skills to current tribal court administrators to implement in their tribal court.                                                     
Topics 
Federal Indian Law for Court Administrators

Court Manuals/Forms 

Self-Court Administration Evaluation/Strategic Planning 
Location 
 UC Davis School of Law 
400 Mrak Hall Drive 
Davis, CA 95616
Important Announcement!
---
Payment Information 
The Tribal Justice Project will be giving full refunds for the registration fee.  We will contact training participants with more information.
Training Overview
The Training will be two-full days on Thursday, January 23 and Friday, January 24, 2020. The Training will use lecture, Power Point presentations, and audience engagement tools (questions/answers, small group exercises, etc.) to promote an active training environment. Judge Christine Williams and Jennifer Leal will be the primary instructors for the training. 
Check-in 
Please check-in by 8:30 a.m. at the registration table and you will received your training materials.
Tentative Agenda: 
Meet the Presenters 
Hon. Christine Williams, Director
Biography
Hon. Christine Williams, a member of the Yurok Tribe, certified in Indian Law, has spent her legal career focused on representing Tribes in a broad spectrum of tribal legal matters primarily tribal court development, Indian child welfare and cultural resource protection.  She joined the UC Davis School of Law Aoki Center for Critical Race and Nation Studies to act as the Director for the Tribal Justice Project in 2018.
She currently serves as the Chief Judge for the Shingle Springs Band of Miwok Indians in El Dorado County.  Judge Williams was instrumental in establishing the Family Wellness Court with the El Dorado County Superior Court.  The Family Wellness Court is a joint-jurisdiction court which enables judges from both jurisdictions to work in concert to hear cases in one courtroom. This model is second tribal court/state court joint-jurisdictional in the nation, the first in California.  
Previously, she assisted in the formation of and development of the Northern California Intertribal Court System, a consortium court serving four tribes in Mendocino County, California, where she also served as their Chief Judge.  
Judge Williams has a long history of providing training and education on various areas of Indian law, Child Welfare and history.  She serves as an appointee to the Tribal Court State Court Form and is the inaugural Chairperson for the California Tribal Court Judges Association formed in 2016.
Career Highlights
California Tribal Court Judges Association, Inaugural Chairperson, 2016 - Present
Education
J.D., Arizona State University College of Law 2000
Federal Indian Law Certificate, Indian Legal Program at Arizona State University College of Law 2000
B.A. Sociology and Women's Studies, University of California, Los Angeles 1996

Jennifer Leal, Training Specialist
Biography
Jennifer R. Leal, a descendant of the Washoe and Mono Lake Paiute communities from northern California, joined the UC Davis Aoki Center for Critical Race and Nation Studies' Tribal Justice Project as the Program Administrator in March 2018.  She brings to the Tribal Justice Project extensive experience in the areas of tribal relations, tribal court administration and judicial education. Previously, Ms. Leal worked for the National Judicial College – National Tribal Judicial Center in Reno, Nevada as the Program Manager. Therein she utilized her prior role as the Tribal Court Administrator for the Washoe Tribe of Nevada & California – Washoe Tribal Court in Gardnerville, Nevada to inform her work. While working at a national level, she developed distance-learning curricula and facilitated discussions on problem solving tribal court administration challenges. Ms. Leal also contributed to the early idea and design of the Judicial Council of California's Court Toolkit for Tribal/State/Federal Administrators and Clerks. She became faculty in 2013 and provided education on court administration to Alaska tribal court administrators and clerks using David Kolb's Learning Style Inventory for adult learners. Since leaving the National Tribal Judicial Center and retuning to California, Ms. Leal served as the Executive Assistant to the Morongo Band of Mission Indians' Tribal Chairman, Robert Martin, who was also Chairman in 1987 and represented the Tribe during the landmark U.S. Supreme Court case California v. Cabazon Band of Mission Indians and Morongo Band of Mission Indians. She was introduced to Indian Law at the University of California, Los Angeles in 2002 and developed a passion to promote tribal sovereignty through tribal courts. Ms. Leal earned both her Bachelor of Arts and Master of Arts degrees in American Indian Studies from UCLA. Her graduate research concentrated on history and law and primarily focused on tribal courts.
Education
M.A. American Indian Studies, University of California, Los Angeles 2017
B.A. American Indian Studies, University of California, Los Angeles 2005

Vida Castaneda
Biography
Vida Castaneda is a Senior Analyst in the Tribal/State Programs Unit with the Center for Families, Children & the Courts and has been employed by the Judicial Council since December 2005. She is multi-ethnic and descendant of the Chumash, Ohlone, Tarahumara and Zapotec tribes. She received her undergraduate degree in 1998 from San Diego State University with a major in Sociology and a minor in American Indian Studies. In 2000, she received a Master's in Social Welfare from UC Berkeley specializing in Title IV-E/Public Child Welfare. During the second year of graduate school, Ms. Castaneda conducted her internship at the Department of Human Services in San Francisco County working with the ICWA caseload. From October of 2000 until December of 2005, Ms. Castaneda worked as a child protective services worker on the mental health specialized caseload in San Francisco County.
Education
M.A. Social Welfare, University of California, Berkeley 2000
B.A. Sociology, California State University, San Diego 1998 

Crystal Porras, Training Specialist - Courtroom Clerk
Biography
Crystal B. Porras currently serves as the Clerk of the Court/Court Administrator for the San Manuel Band of Mission Indians Tribal Court. She brings 20 years of courtroom experience working as a judicial assistant and courtroom manager. Previously, Ms. Porras worked for Orange County Superior Court Juvenile Division, Juvenile Appellate Division and Riverside Superior Court. While at Riverside Superior Court, she worked in all areas of litigation such as family law, probate, criminal, traffic, juvenile, civil, and specialty courtrooms.  Ms. Porras is passionate about building and supporting partnerships between the state superior courts and tribal courts. Her main focus is on training tribal court clerks from counter to courtroom to enhance tribal sovereignty and strengthen court services for Indian Country. Ms. Porras recently started serving as Chairwoman for the California Tribal Court Association, previously called California Tribal Court Clerks' Association, formed in 2011. She is the first Tribal Court member of the Association of Court Trainers (ACT), which is comprised of state superior court trainers and California Court Association (CCA).  Ms. Porras provides mentorship for high school students in collaboration with the Riverside District Attorney's Office. Currently, Ms. Porras works directly under Chief Judge Claudette C. White.
Education
A.S. Associate of Science in Administration of Justice, Rio Hondo College, Whittier California
A.S. Associate of Science in Paralegal (ABA approved), Mount San Antonio College, Walnut, California
Training Location 
UC Davis School of Law 

400 Mrak Hall Drive 

Davis, CA 95616
Hotel Option 
Room Block
Aggie Inn, An Asend Hotel Collection Member 
Hotel Address: 245 First Street, Davis, California 95616
Phone: (530) 756-0352
Distance to Training Location: 0.9 miles 
Rate: $127.00 
Room Block: To reserve a room call the hotel directly and ask for a reservation under "Tribal Court Administrator Training" or click here. 
Reservations must be made no later than December 20, 2019. 
Food 
A continental breakfast and lunch will be provided for both days. Veggie and vegan options available only if requested in advance. There will be coffee and water available during the training all day. If you did not include this option on your registration form, please email tjp@law.ucdavis.edu by January 6, 2020 with your request.
Parking 
Parking is $10 and available at the Gateway Structure, Davis, CA 95616.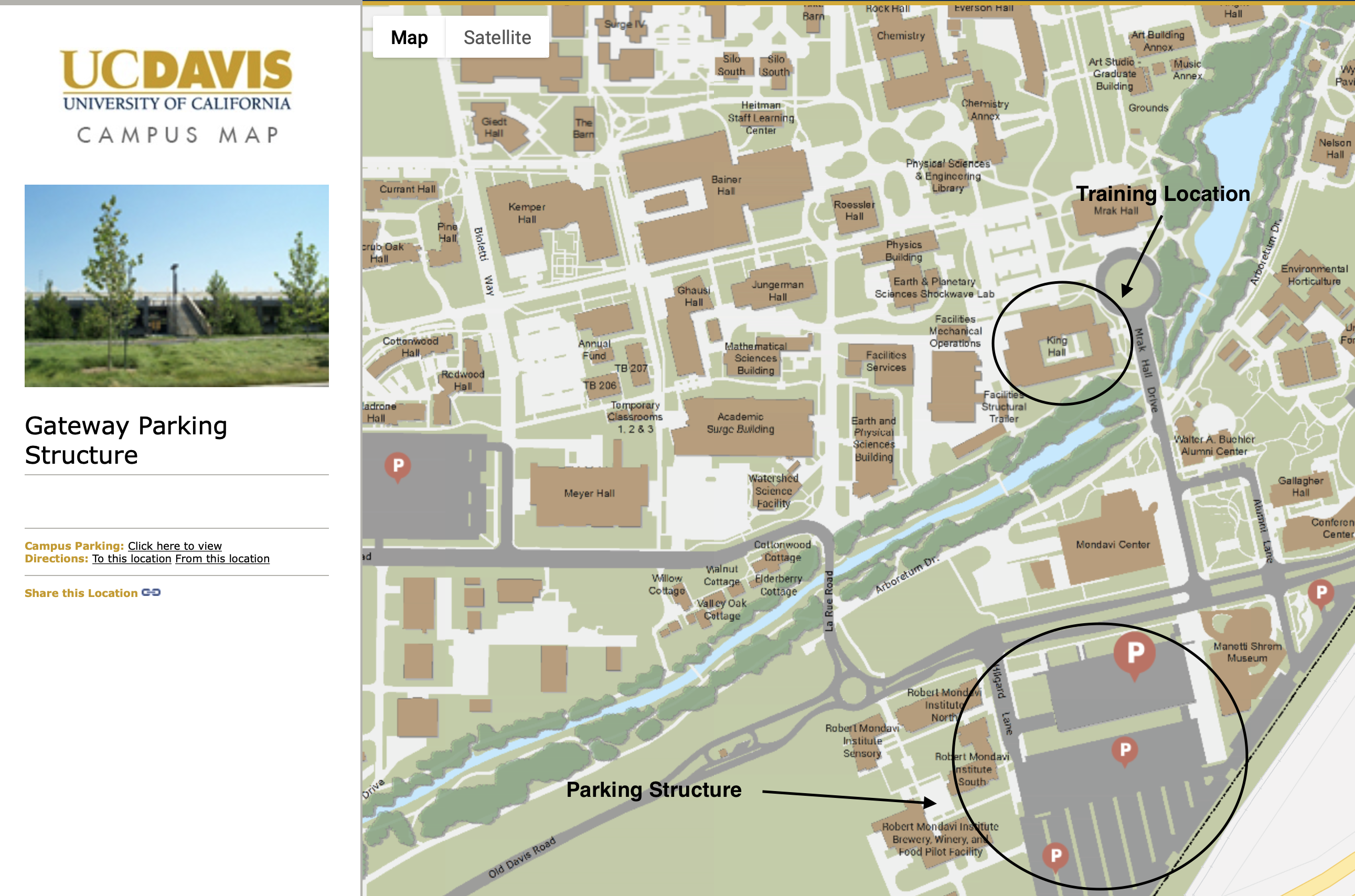 Support Tribal Court Trainings | Advance Tribal Sovereignty | Give Today
---
Why Give
The Tribal Justice Project works with tribal judges, lawyers, and leaders to enhance the sovereignty and capacity of tribes in California and other Public Law 280 states. We provide accessible and culturally appropriate trainings to California tribal court judges and other court personnel. These trainings provide critical skills needed for tribal judges and court personnel to establish and improve their tribal courts.
Impacts of Giving
By giving today, you will increase the number of trained tribal court personnel, stronger tribal courts, and advance tribal sovereignty. The donations will go to catering breakfast and lunch for the participants of the trainings.