Yale's Jack Balkin Visits King Hall as Distinguished Scholar in Residence
Posted By Kevin R. Johnson, Mar 17, 2017
This week, Jack Balkin, Knight Professor of Constitutional Law and the First Amendment, visited UC Davis as the Martin Luther King, Jr. Distinguished Scholar in Residence.  An exuberant and influential scholar, he delivered the Law in the Information Age lecture on free speech theory in the 21st century.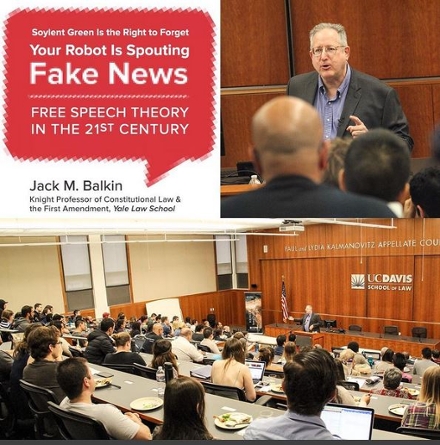 Professor Balkin's lecture and event poster. Courtesy Instagram @ucdavislaw.
Professor Balkin attracted a full house in the Kalmanovitz Appellate Courtroom.  Senior Associate Dean Madhavi Sunder and Professor Anupam Chander established this lecture series and invited Professor Balkin to participate. 
Over the week, Professor Balkin also visited Professor Brian Soucek's constitutional law class, presented a paper to the law faculty on the need for a constitutional reform because of dysfunctions in modern American democracy, and visited other classes.
It has been an intellectual feast having Professor Balkin visit UC Davis School of Law.