Women's Forum on Empowerment and Equality
Posted By Madhavi Sunder, Feb 11, 2016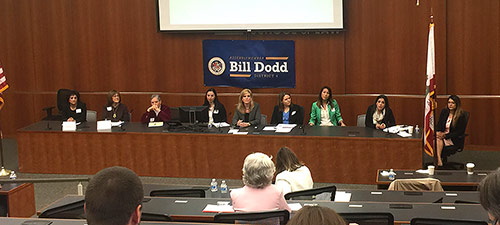 This morning King Hall hosted a community "Women's Forum on Empowerment and Equality" sponsored by California Assemblymember for the Fourth District, Bill Dodd. Speakers included Nancy Kirshner-Rodriguez, the Executive Director of the California Commission on the Status of Women & Girls, Jessica Stender, Senior Staff Attorney for Equal Rights Advocates, and our own UC Davis Law School Professor Emerita Marty West.
In welcoming our honorable guests from the state legislature, UC Davis, and the community, I was proud to share with the audience some of our own values and achievements in this area. This year we are celebrating the 50th anniversary of the UC Davis School of Law. At this milestone moment, we are also celebrating that with this year's first year class and our most recent faculty hires, we are "50 at 50" – we are a law school with a student body and a faculty that are 50% women.
In addition, this year our law faculty, who teach in a building named after Martin Luther King, Jr., became majority-minority. We are proud that our faculty reflects the majority-majority demographics of our great state. Going deeper than that, our top public law school reflects the values of Dr. King of equality and opportunity for all – the same values of this morning's gathering.
I shared that in addition to my work at the law school, I am currently the President of the Davis School Board. In that regard, we have been looking closely at one of the two topics of this morning's Forum: diversifying the pipeline for STEM jobs to include girls and low income students. I and the Davis School District have been working, in particular, with Beth Broome, UC Davis' Senior Advisor to the Provost on STEM, to increase opportunities for diverse youths to become excited about and prepared for STEM higher education and careers.
Indeed, UC Davis is leading the way in this important effort, with our very own Chancellor Linda Katehi at the forefront. Chancellor Katehi is the honorary California chair of the Million Women Mentors Initiative to support "the engagement of one million Science, Technology, Engineering, and Math (STEM) mentors (male and female) to increase the interest and confidence of girls and women to persist and succeed in STEM programs and careers." As Chancellor Katehi says, "Both men and women can serve as mentors and girls in STEM fields — and our state and nation—will be the beneficiaries."
King Hall values being a space for public engagement on these important issues of our day, and it was a true honor for us to host this forum today.