Whirlwind Trip to Tulane Law in New Orleans
Posted By Kevin R. Johnson, Mar 21, 2017
I had a warm and wonderful whirlwind trip to Tulane University Law School to deliver the Dreyfous Lecture on Civil Liberties and Human Rights yesterday. My talk was on immigration and civil rights in the Trump administration.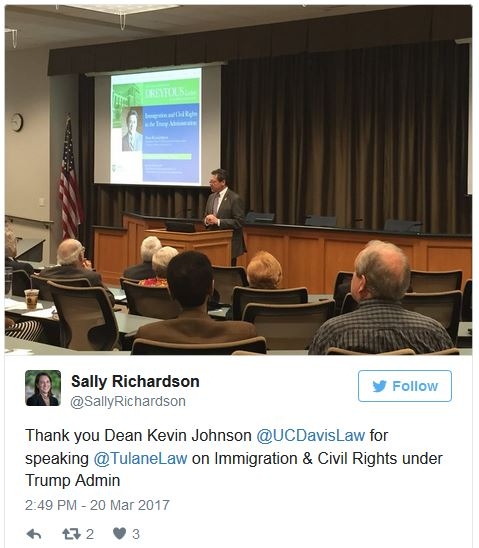 It was great seeing old friends, including UC Davis undergraduate alum Laura Sunday (who served with me on the Athletic Director search committee), former student Treb Winegar '02 (now Director of Development at Tulane Law School), and former UC Davis Letters and Science Dean Steve Sheffrin (now a Tulane professor). The lecture was enjoyable, with great questions, and I was impressed with the warmth and engagement of the Tulane community.
I had a delicious New Orleans dinner with Tulane law dean David Meyer, professors Robert Westley, Janet "Jancy" Hoeffel, and Saru Matambanadzo.
It was a great day in New Orleans!!