Week in Review: Rudi Bakhtiar, Judge Reinhardt, Professor Martha Nussbaum, and the Asian Century
Posted By Kevin R. Johnson, Feb 26, 2010
It was another eventful week at King Hall!
On Tuesday, King Hall welcomed Rudi Bakhtiar, the former CNN anchor who is now the Communications Director for the International Campaign for Human Rights in Iran. The Law School co-sponsored the event along with the Middle Eastern South Asian Law Students Association (MESALSA), the California International Law Center at King Hall (CILC), and the Iranian American Bar Association (IABA). I got to introduce Bakhtiar, who gave an impassioned presentation on political unrest and human rights abuses in Iran. She discussed the high number of innocent Iranians who are political prisoners. Bakhtiar has deep roots in Iran: her late uncle was former Iranian Prime Minister Shapour Bakhtiar, and Rudi spent part of her childhood in Iran. Her presentation was well-received and the audience asked many good questions.
On the heels of the successful Bodenheimer Lecture by California Supreme Court Justice Carlos Moreno, Judge Stephen R. Reinhardt of the U.S. Court of Appeals for the Ninth Circuit delivered the Edward Barrett Lecture on Constitutional Law on Thursday. Judge Reinhardt offered an excellent lecture on "Life to Death: Our Constitution and How It Grows" in which he contrasted interpretation of the U.S. Constitution by "originalists" and what he termed "living constitutionalists." Years ago, I was fortunate to be one of Judge Reinhardt's clerks (as was Professor Elizabeth Joh, who gave him a ride to Davis from the airport). It was wonderful to catch-up with Judge Reinhardt and to walk through the arboretum with him. As a clerk, I walked with Judge Reinhardt through downtown Los Angeles discussing cases as he (and I) got some daily exercise.
On Friday, the UC Davis Law Review hosted a symposium on "The Asian Century?" in the Wilkins Moot Courtroom.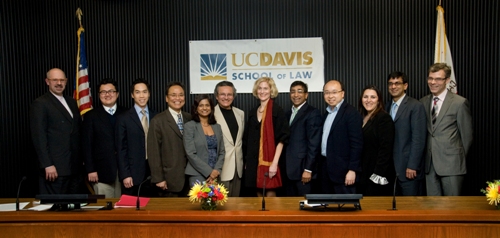 Panelists at the UC Davis Law Review Symposium: "The Asian Century?"
The symposium, which was the brainchild of Professor Anupam Chander, brought leading scholars from across the country to UC Davis School of Law to discuss Asia's rising political, economic, and social global profile and its impact on everything from intellectual property to human rights and national security law. Martha Nussbaum, the Ernst Freund Distinguished Service Professor of Law and Ethics from the University of Chicago Law School, delivered an amazing keynote address on "Democracy, Education and the Liberal Arts: Two Asian Models." In addition to Nussbaum, the panelists included:
Tom Ginsburg, professor of law, University of Chicago Law School
Anil Kalhan, associate professor of law, Drexel University School of Law
Yong-Sung (Jonathan) Kang, assistant professor of law, University of Washington School of Law
Holning Lau, associate professor of law, University of North Carolina School of Law
Teemu Ruskola, professor of law, Emory Law School
Peter Yu, Kern Family Chair in Intellectual Property Law, Drake Law School
UC Davis law professors Afra Afsharipour, Diane Marie Amann, Keith Aoki, Anupam Chander, Lisa Pruitt, and Madhavi Sunder also participated.
Look for news items, pictures, and video from these events coming soon on the King Hall website!