Visiting Yeoryios Apallas '72 and More Alums in Sonoma and Napa
Posted By Kevin R. Johnson, Aug 26, 2016
Executive Director of Development Karen Charney and I had a great day on the road in Sonoma and Napa Counties this week, reaching out to reconnect with UC Davis School of Law alums.  We had lunch in Santa Rosa with Kara Abelson '11 and Adam Brand '02, both of whom work for the Sonoma County Counsel's Office (Congrats to Kara, who was married last weekend in Sebastapol and is headed to a honeymoon in Croatia!), as well as Richard Moss '74, Daniel Raff '11, and Tom Richards '69.  Tom is retired and runs two hotels, one in Sonoma County (Jack London Lodge) and another in Bodega Bay (Bodega Bay Inn).  It was an upbeat group of King Hall alums doing some extremely interesting work in the middle of wine country.
We spent a delightful afternoon with Yeoryios Apallas '72 at his beautiful estate off the Silverado Trail near Soda Creek in the beautiful Napa Valley.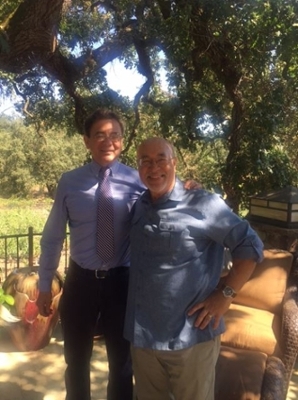 Me with Yeoryios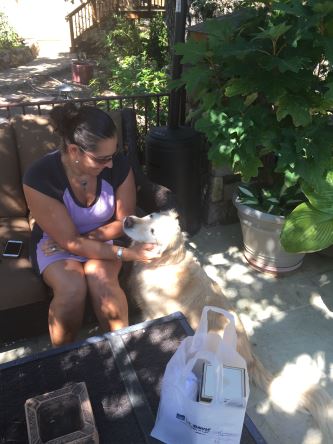 Karen with "Bricks"

Very busy in retirement, Yeoryios and his lovely wife Nancy have a vineyard with many animals, including chickens, goats and a loveable dog named Bricks.  Yeoryiois, who spent many years in the California Attorney General's Office, has been a dedicated supporter of his law school alma mater, having literally brought millions of dollars from the Kalmanovitz, Mabie, and other foundations to UC Davis School of Law.  We have Yeoryios to thank for the generous gift naming the Kalmanovitz Appellate Courtroom, the centerpiece of the new-and-improved Martin Luther King, Jr. Hall. The beautiful space has hosted the California Supreme Court for a session of oral arguments. See this web news story, "Kalmanovitz Appellate Courtroom reaches new heights."  I am honored to be the Mabie-Apallas Professor of Public Interest Law, which has supported my teaching, research, and service efforts.  It is no exaggeration to say that the generosity of Yeoryios Apallas has changed the course of UC Davis School of Law.
We had a wonderful afternoon catching up with Yeoryios and Nancy, as well as their daughter Alexa, who was visiting from Southern California (and once thought of attending King Hall!).