Visiting King Hall Alumni in Southern California
Posted By Kevin R. Johnson, Nov 6, 2015
I journeyed to Southern California yesterday with Senior Director of Development Karen Charney to visit King Hall alums. The first stop was Orange County, where an enthusiastic group of alums, including David '07 and Kim Chase '07, Dennise Willett '94 (my former civil procedure student and tutor), Mike Williams '97, Marc Reich '91, Jesse Muholland '02, Jade Tran '01, John York '72, Celinda Tabucchi '75, and others met for lunch.  I enjoyed filling them in on all the great goings-on at UC Davis.
To cap off the day, we visited Marc Beilinson '83 at his beachfront home in Venice Beach.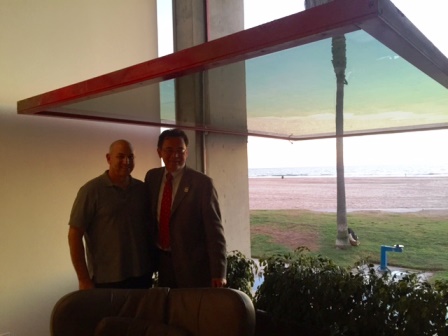 Marc and me in his beautiful home that's right on the beach.
We then went to dinner with Marc, as well as Art '70 and Kathy Chinski. It was a warm and wonderful evening with great company.
Thanks to all of the alums who visited with us in L.A. and the O.C.!