UCDC Students Meet U.S. Supreme Court Justice Breyer
Posted By Kevin R. Johnson, Mar 13, 2012
Our UCDC Law Program offers unparalleled opportunities for students to learn about the federal government in the nation's capital.  A highlight came a couple of weeks ago, when students got to meet U.S. Supreme Court Justice Stephen Breyer.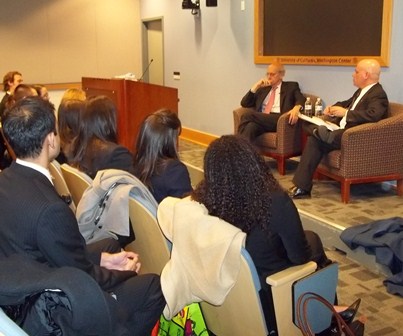 UCDC students listen to Justice Breyer (left) and WSJ's Jess Bravin.
Here's a summary from UCDC Director Nicole Lehtman:
Students from four University of California Law Schools (Berkeley, UCLA, UC Davis, and UC Irvine) who are in Washington DC participating in their schools' full-time legal externship program (UCDC Law Program) had the unique and perhaps once in a lifetime experience of sitting with and asking questions of a U.S. Supreme Court Justice. 
On February 27, 2012, Justice Breyer came to the UC Washington Center to speak with a group of more than 200 undergrad and law school students.  The talk was moderated by Jess Bravin, Supreme Court Correspondent for The Wall Street Journal. Justice Breyer's talk focused on his new book, "Making Democracy Work, A Judge's View."  Immediately following the talk, Justice Breyer graciously agreed to meet separately with 17 law students (14 from the UC law schools and 3 from Columbia Law School).  In this intimate setting, Justice Breyer answered questions on topics ranging from the inner workings of the U.S. Supreme Court to providing a rare glimpse into his decision- making process.  Following the question and answer session Justice Breyer autographed copies of his book for the students.  
King Hall students who met Justice Breyer include Bryan Herdliska '13, Angela Ho '12, and Irina Zamyatin '13. 
Many thanks to Justice Breyer for visiting the UCDC students!  To learn more about the UCDC Law Program, visit http://www.law.ucdavis.edu/academics-clinicals/ucdc-overview.html.