UCDC Students Meet Justice Scalia
Posted By Kevin R. Johnson, Apr 18, 2013
Today I received this photo and a very cool message from UCDC Law director Nicole Lehtman.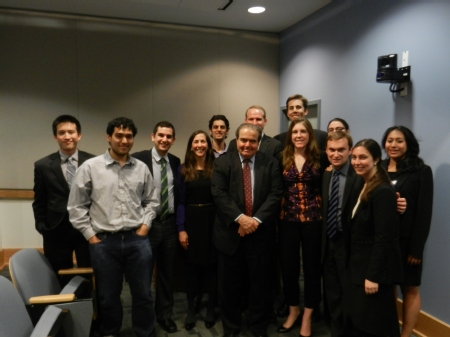 Nicole wrote, "I wanted to share with you exciting news that on Monday evening the UCDC law students had the rare privilege of having an intimate meeting with Supreme Court Justice Antonin Scalia here at the UC Washington Center.  Justice Scalia first spoke to a packed room full of undergraduate and law students from the University of California who are spending a semester in Washington DC.  Following the large group session, Justice Scalia met separately with a small group of law students from Berkeley, UCLA, UC Davis and UC Irvine who are in Washington DC participating in the UCDC law program.  Justice Scalia spent quality time with the small group of law students where he thoughtfully and candidly answered their questions.  After the session, the law students commented that they were honored that the Justice was willing to spend time with them speaking on a wide range of topics, including the role the Supreme Court should play in the lives of the American people, his definition of judicial activism, and sharing a few personal stories about his career."
As Nicole wrote, the students in this photo come from various UC law schools. The King Hall students are Jared Voskhul (standing directly behind Justice Scalia), Kyle Gee (first on the left), and Miles Prince (3rd from the right).
A truly amazing opportunity for students in our UCDC Law Program, a unique externship in the nation's capital. And this is not the first time UCDC students have gotten to meet a SCOTUS Justice! See my previous blog entry about their meeting with Justice Stephen Breyer.
To learn more about UCDC, visit http://www.law.ucdavis.edu/academics-clinicals/ucdc-overview.html.