UC Davis Welcomes New Football Coach
Posted By Kevin R. Johnson, Dec 18, 2012
I attended the press conference announcing the hiring of the new UC Davis football coach Ron Gould yesterday. Gould, who is replacing the legendary Bob Biggs, was an assistant coach to Cal's Jeff Tedford. In this above picture, Athletic Director Terry Tumey is on the left and Gould is on the right.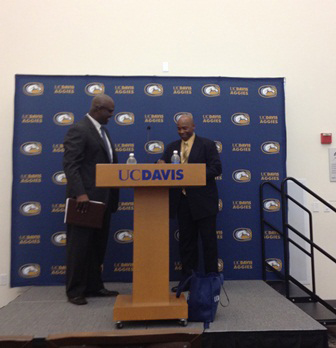 Among those in attendance at the press conference was Ailene Voisin of the Sacramento Bee, Bob Biggs, former women's basketball coach Sandy Simpson, and a number of UC Davis athletes and campus leaders. The press conference was followed by an afternoon welcome reception the new coach at Aggie Stadium.
Welcome to UC Davis, Coach Gould!