UC Davis Wears Red!
Posted By Kevin R. Johnson, Feb 4, 2014

This Friday, UC Davis is going RED! Spearheaded by the Office of Chancellor Linda P.B. Katehi, the campaign will show support for women's heart disease awareness.
The Law School is doing its part to go RED. Join the awareness movement on Friday by:
* wearing RED.
* picking up heart-health information, RED snacks, and heart stickers at King Hall, courtesy of the King Hall Women's Law Association, Health Law Association, and Dean's Office.
* going to Hutchison Field at noon to join the campuswide effort to break the Guinness World Record of 11,166 people in a heart formation.
* buying a special-edition RED t-shirt at the UC Davis Bookstore for just $5.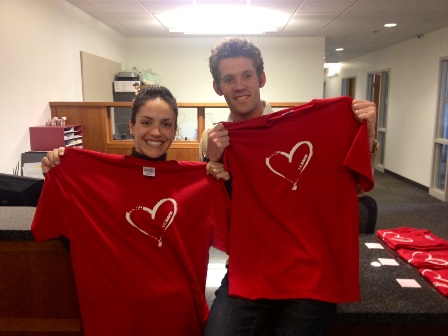 King Hall staffers are ready to go RED.
For more information on UC Davis Wears Red Day, please visit the Chancellor's web page and the Facebook event page for Friday's (potentially record-breaking) noontime gathering!