UC Davis Law Review Symposium 2015: "Corruption and Compliance"
Posted By Kevin R. Johnson, Jan 29, 2015
The UC Davis Law Review hosted a highly successful symposium last week. "Corruption & Compliance:  Promoting Integrity in a Global Economy" explored the moral, social, economic, and legal effects of corruption in business.  Congress passed the Foreign Corrupt Practices Act after it was disclosed that U.S. corporations had been bribing foreign government officials.  In the last few years, the federal government has stepped up prosecutions of corporate corruption cases.  Other nations recently have passed anti-bribery legislation.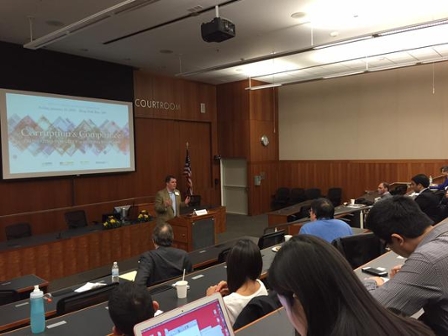 Jay Jorgensen delivers the keynote address.
The event had a solid audience, with a keynote address by Walmart's Senior Vice President and Global Chief Compliance Officer Jay Jorgensen. His address received coverage from the San Francisco Chronicle. I thanked Jay for his participation in my opening remarks for the symposium. 
We had a number of faculty involved as symposium advisors and moderators, including Professors Bob Hillman, Afra Afsharipour, and Thomas Joo.  Professor Brian Soucek is the Law Review advisor.
Overall, the event offered excellent intellectual interchange on an important issue -- corruption in the global economy. Congratulations to the Law Review editors and event organizers on a very good symposium!