UC Davis Capitol Speaker Series: UC Undocumented Legal Services Center
Posted By Kevin R. Johnson, Feb 20, 2016
I had the honor of speaking in the UC Davis Capitol Speaker Series yesterday.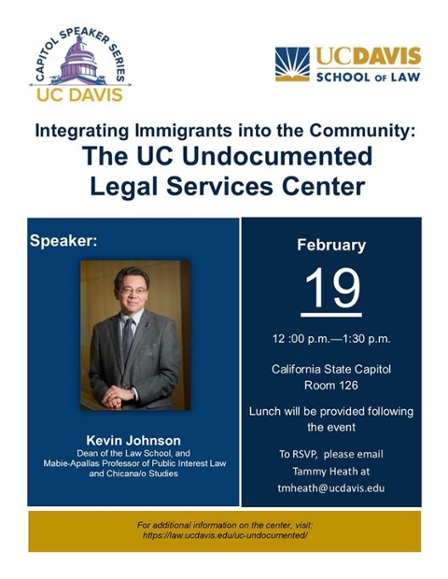 The talk was held in the beautiful State Capitol.  I talked about the new UC Undocumented Legal Services Center that is housed at UC Davis.  The Center, the idea of UC President Janet Napolitano, responds to the needs of students on the UC campuses and also is consistent with legislative efforts to expand access to the UC campuses to undocumented students. 
The event was like a King Hall reunion!  Amal Abu-Rahma '97 (February's Alum of the Month), Che Salinas '06, and Dan Torres '02 were among the alums in attendance; all of them asked questions (just like law school!).  UC Davis State Government Relations Director and King Hall alum Adrian Lopez '03 introduced me.  Assistant Chancellor Marj Dickinson also was in attendance. 
I was proud to describe the great work being done to provide legal representation to some of the most vulnerable students.