UC Davis Basketball on ESPN
Posted By Kevin R. Johnson, Feb 2, 2015
A group of faculty, staff, alums, and students attended the UC Davis/Cal Poly San Luis Obispo men's basketball game at the ARC Pavilion on Saturday night.  A full-house, energetic crowd greeted the ESPN crew, which televised nationally the second UC Davis basketball game in the last few weeks.  Professors Evelyn Lewis, Albert Lin (and family), Rick Frank, and Rex Perschbacher were in attendance, as were Alumni Board members Gene Woo '85 and Robert Barton '88.   Athletic Director Terry Tumey visited the group at half time and predicted a big UC Davis comeback in the second half.  He was right, and we left the ARC Pavilion victorious, having watched a true barn burner of a game that included incredible plays like this one.  The Aggies fought back from a 14 point deficit to win 81-78 in overtime.  It was a great evening with a lot of energy in the air.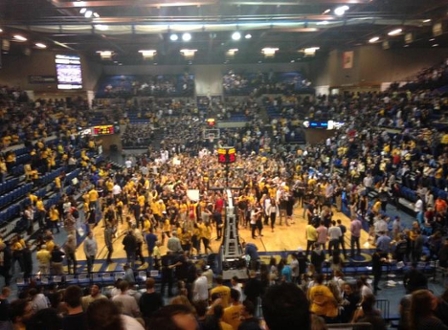 Image via Twitter @billherenda
Congratulations on your big win, Aggie men's basketball team!