U.S. Supreme Court Nominee Sonia Sotomayor
Posted By Kevin R. Johnson, May 29, 2009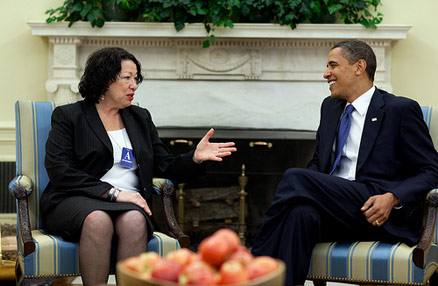 Official White House photo by Pete Souza
A graduate of Princeton and Yale Law School, Judge Sonia Sotomayor served as a district attorney, was a partner at a private law firm, and, 1992, and was appointed by a Republican President to the federal district court before being elevated by a Democratic President to the U.S. Court of Appeals for the Second Circuit. Judge, one of the most prestigious circuit courts in the United States. With 17 years on the bench, Judge Sotomayor has more judicial experience than any nominee for the Supreme Court in many decades, including Chief Justice John Roberts (who had two years of experience as a judge before joining the Court). Her opinions reflect the technical skills and high quality of an intelligent, careful, and thoughtful jurist. Judge Sotomayor also has an incredible personal story, perhaps only rivaled by President Obama's own life story. A product of the Bronx housing projects, she made the most of humble beginnings. The icing on the cake is that Judge Sotomayor would be the first Hispanic Justice on the U.S. Supreme Court.
Doesn't this sound like the perfect Supreme Court nominee? Maybe so, but talk show radio, television, and conservative bloggers have been crying foul. Rather than focus on Judge Sotomayor's many opinions as a federal judge in New York City (a fact that itself is revealing), the opposition has jumped on remarks that Judge Sotomayor made at two academic conferences at elite law schools, UC Berkeley in 2001 and Duke in 2005. At Duke, she suggested, somewhat in jest in an aside to her main comments, that circuit courts make "policy." I will leave this comment for inquiry by the Senate Judiciary Committee, which almost certainly - and rightly - will question Justice Sotomayor about her judicial philosophy just as it questions all nominees. But, in any event, that philosophy would seem to be best judged by reading her opinions over her nearly two decade career as a judge, as opposed to listening to a brief YouTube sound-bite.
Instead, my focus here is on the criticism of Judge Sotomayor's comments at a scholarly conference at UC Berkeley's law school in 2001, which provoked Rush Limbaugh to proclaim that she is a "reverse racist."
In October 2001, Judge Sotomayor delivered an invited lecture named in honor of Judge Mario G. Olmos, a respected California jurist, at UC Berkeley School of Law. Her remarks kicked off a symposium organized by the students of the Berkeley La Raza Law Journal entitled "Raising the Bar: Latino and Latina Presence in the Judiciary and the Struggle for Representation." Other participants in this conference included a group of distinguished Latino judges -- California Supreme Court Justice Carlos Moreno, U.S. Circuit Judge Richard Paez, New Mexico Supreme Court Justice Patricio Serna, and others - and law teachers - including Miguel Méndez (Stanford), Leo Martínez (UC Hastings), Cruz Reynoso (UC Davis and former Associate Justice of the California Supreme Court), Joaquín Avila (Seattle), and me (ironically enough, talking about the significance of the first Latino on the Supreme Court).
Entitled "A Latina Judge's Voice," Judge Sotomayor's remarks offered some personal history in which she makes it clear that she is proud of her Puerto Rican ancestry. She discussed the importance of a judge's personal background in the process of judging. Judge Sotomayor also spent some time discussing the under-representation of women and minorities on the bench, a proposition that few knowledgeable observers would dispute. But, the following statement is what triggered claims that this distinguished Puerto Rican jurist was a racist: "I would hope that a wise Latina woman with the richness of her experiences would more often than not reach a better conclusion than a white male who hasn't lived that life."
Although provoking controversy, we have seen much more heat than light. I might not have put it quite like Judge Sotomayor did; however, in the context of her remarks, I know what she meant. At a conference devoted to increasing Latinos in the judiciary organized by students (many of them Latino) looking for inspiration, she was in effect stating the obvious - that a diversity of perspectives among judges matters. Race matters. Having a Latino on the U.S. Supreme Court matters. The take home message was simple: "we need to keep working together to diversify the judiciary."
Judge Sotomayor's message is not controversial. She was suggesting that diversity of perspectives among decision-makers is likely to lead to better decision-making. That is the reason why we strive to have a jury drawn from a cross-section of the community, not the much-maligned all-white jury trying the African American defendant. It is one important reason why nine - not one, two, or three - Justices deliberate to render the decisions of the U.S. Supreme Court. It is why, by virtually all accounts - including those of their fellow Justices, the first African American, Thurgood Marshall, and the first woman, Sandra Day O'Connor, made such a difference as members of the Supreme Court.
Some of the rest of the Judge Sotomayor's speech makes it clear that she was not anti-white male, a preposterous proposition (but an accusation that many people of color are well familiar with). She said that "we should not be so myopic as to believe that others of different experiences or backgrounds are incapable of understanding the values and needs of people from a different group. Many are so capable." In addition, she emphasized that "[n]o one person, judge or nominee will speak in a female or people of color voice." In these remarks, Judge Sotomayor expressly rejects any notion of racial essentialism or superiority. At the same time, she proceeded to encourage the audience to pursue efforts that ensure that "statistically significant numbers" of women and minorities serve on the bench and that, some day, the judiciary hopefully will look more like America than it does today.
In my estimation, Judge Sotomayor's stellar credentials and unique perspective - with a racial, class and gender background different from any Justice ever on the Supreme Court - will likely positively affect the Court's deliberations and inform and influence her colleagues on the Court. I am confident that the Senate and the public will reject the efforts by conservatives seeking to undermine her long-awaited nomination to distort her comments to some law students in 2001.