U.S. Attorney General Live Video Event at King Hall
Posted By Kevin R. Johnson, Oct 7, 2011
Students -- Did you see the exciting video event coming to King Hall from the U.S. Attorney General?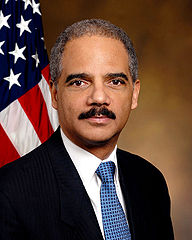 Live Stream: Champions of Change

Thursday, October 13
King Hall, Room 2304
11:00 AM – 12:30 PM
Please join Attorney General Eric Holder and others at the White House for a video live stream as they encourage law students around the country to step up their pro bono efforts. 
This national, on-line conversation among law students and faculty, public service lawyers, and Attorney General Holder, seeks to get thousands of future agents of legal change talking about what lawyers can do to close the justice gap.  The discussion will illustrate the range and quality of public interest lawyers' accomplishments by honoring 16 exemplary public service Champions at the White House, hoping to inspire students to add their talents to the effort to secure basic rights for all Americans.   
Attorney General Holder will field questions submitted electronically from students in law school classrooms across the nation about how to use their legal training to help secure equal access to our justice system.
The Champions of Change event will inspire you to think of new ways in which you can use your law degree toward the common goal of public service.
For more information, please visit www.whitehouse.gov/champions.