Tribute to Senator Lois Wolk
Posted By Kevin R. Johnson, Nov 4, 2016
Last week, the UC Davis campus had a wonderful reception in honor of Senator Lois Wolk, a longtime public servant and supporter of UC Davis. Lois, whose husband Dean and Professor Emeritus Bruce Wolk led the law school in the 1990s, had been a longtime friend of the School of Law. Indeed, she and Bruce recently attended the 2016 alumni reunions at King Hall.
The gala for Senator Wolk included a virtual "who's who" in the greater UC Davis and Yolo County community.  In addition to Bruce Wolk, of course, many law professors were there, including Professors Evelyn Lewis, Thomas Joo, Dennis Ventry, Donna Shestowsky, Darien Shanske, and myself.
A wonderful program emceed by former Vice Chancellor John Meyer followed the reception.  Former Davis Mayor Dan Wolk spoke fondly of his mother as did his children.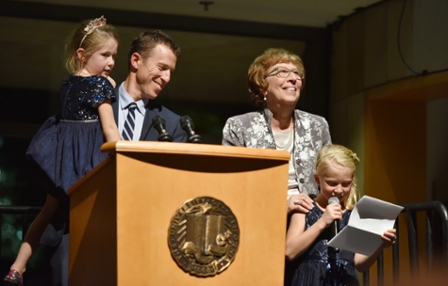 Photo courtesy of The Davis Enterprise
The Davis Enterprise covered the event. See the newspaper's photo gallery here.
It was a warm and wonderful night of tribute to Senator Lois Wolk.