The Law School's Valuable Relationship with Chile
Posted By Kevin R. Johnson, Nov 14, 2012
I just returned from a trip to Santiago, Chile to meet with Chilean leaders to facilitate faculty and student exchange programs for UC Davis law students and faculty.  Due to the hard work of Executive Director of International Programs Beth Greenwood J.D. '91 and Jorge Rojas LLM, '03, I had a full schedule of visits.  Our goal was to build on the long relationship between Chile and UC Davis, including the involvement of many Chilean lawyers and professors in the School of Law's international programs.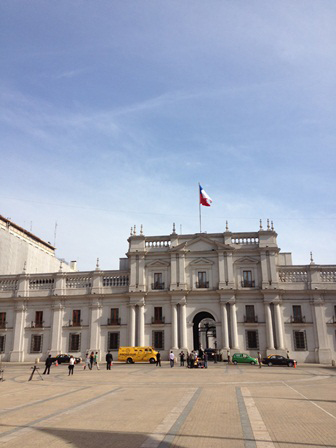 Presidential Palace in Chile
I first met with the U.S. Ambassador to Chile, Alejandro Wolff, a UCLA alum who happened to give a talk at UC Davis School of Law yesterday.  We also met with the Minister of the Economy (and past Presidential candidate) Pablo Longueira and Undersecretary Tomas Flores (who also studied at UCLA as an undergraduate).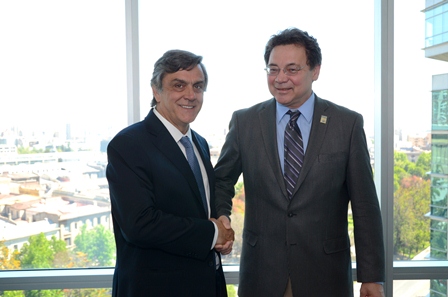 With Minister Pablo Longueira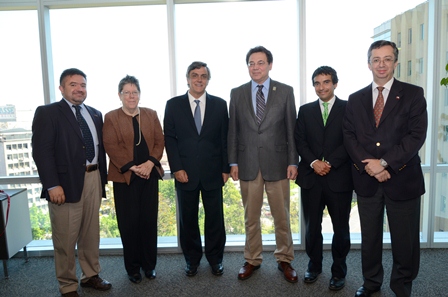 Group photo
We also met with officials from the Plan Chile California at the Ministry of Foreign Affairs and discussed opportunities for future collaborations with U.S. and Chilean universities.   Last but not least, we met with the Minister of Justice Teodoro Ribera and discussed improvements to the Chilean justice system.
I also met with several law school deans, including Deans Robert Nahum (Universidad de Chile), Roberto Guerrero (Pontificia Universidad Catolica de Chile - see the school's news item about our visit at http://derecho.uc.cl/uc-davis-school-law-y-derecho-uc-buscan-nuevos-nichos-de-colaboracion/), and Juan Vargas (Universidad Diego Portales).  We discussed the possibilities of student and faculty exchange opportunities for our law schools.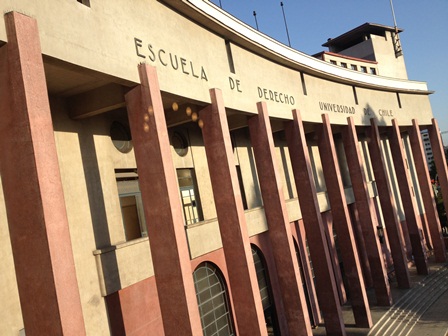 University of Chile Law School exterior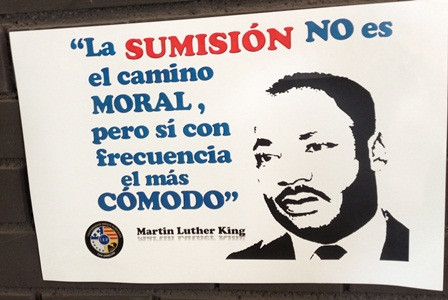 A poster of Dr. King seen at Universidad Diego Portales
On Wednesday and Thursday, I attended the Association of Pacific Rims University Law Deans Meeting 2012 at the Universidad de Chile.  The conference was hosted by Dean Roberto Nahum from the Universidad de Chile, who was an extremely gracious host and acknowledged UC Davis's special relationship with the Universidad de Chile.  Representatives in attendance came from law schools from Australia, China, Germany, New Zealand, Taiwan, Thailand, Singapore, Russia, Indonesia, Spain, the Philippines, India, and Costa Rica.  As representatives of UC Davis School of Law, the only American law school represented at the conference, we were able to outline UC Davis's special relationship with Chile.   
We met many loyal and dedicated alums such as Cristian Palacio, Cristian Fabres, Guillermo Morales, and Osvaldo Contreras Strauch who helped us in countless ways during our stay.  We discussed recent developments at UC Davis, including the new-and-improved King Hall facilities, new academic centers, and growing international reputation.  We also explored the expansion of our international presence. 
All in all, UC Davis has quite a presence and a deep-rooted friendship in Chile.  Besides agriculture and the sciences, that relationship extends to law with many Chilean alums of the LL.M, Masters in International Commercial Law, and other international programs.  It was exciting to hear the buzz in Chile over Election 2012 in the United States.  The warmth and enthusiasm of the School of Law's Chilean friends was truly invigorating.