The E3 Conference at UC Davis
Posted By Kevin R. Johnson, May 17, 2010
On Wednesday, UC Davis played host to a conference titled "E3: Economic Prosperity, Energy and the Environment."  The event drew leaders from business, education, government, and the nonprofit sector to discuss ways to harness technology to create jobs and improve the environment.
Governor Schwarzenegger was a featured speaker.  The event also included a panel discussion with, among others, Sacramento Mayor Kevin Johnson.  I was able to talk beforehand with the Mayor.  We talked about the Arizona immigration law as well as the Phoenix Suns' playoff victories.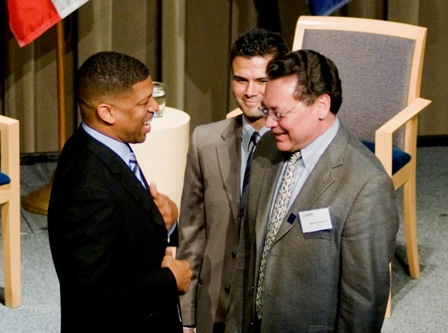 Me with the real Kevin Johnson
I also caught up with Tom '75 and Meg Stallard, Wayne Bartholomew '71, King Hall Alumni Board President Steve Boutin '72, and Downey Brand's Stephen Meyer.  
The E3 conference drew some great news coverage, including this article in the Sacramento Bee.