Tenth Annual Asylum & Refugee Law National Moot Court Competition
Posted By Kevin R. Johnson, Mar 8, 2017
This weekend, the Moot Court Honors Board of UC Davis School of Law held the Tenth Annual Asylum & Refugee Law National Moot Court Competition. Teams from law schools across the United States traveled to Davis on a beautiful March weekend to participate in the only asylum and refugee moot court competition in the United States.  It is also the only immigration law moot court competition on the West Coast.
The Moot Court Honors Board ran a first rate competition.  Law students Diem Ly Vo '17 and Shima Vasseghi '17 were the lead organizers but many Honors Board students were a part of the huge team effort in making sure the event ran smoothly.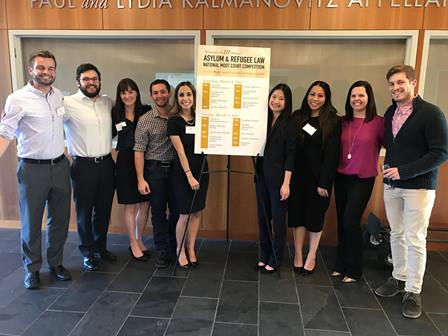 Our law student organizers on competition day at King Hall
The competition provides law students from across the country the opportunity to participate in a hypothetical appeal to the U.S. Supreme Court. Competitors submitted a brief as either respondent or petitioner on an issue related to asylum and refugee law. This weekend, students argued their cases before prominent judges, attorneys, and scholars who specialize in immigration law and appellate advocacy.
The problem involved an asylum applicant from the fictitious country of San Martino, which had experienced civil unrest and hate crimes directed at transgendered people.  The final round judges included U.S. District Judge William Shubb, Professor and former California Supreme Court Justice Cruz Reynoso, Immigration Court Judge Joren Lyons, Assistant U.S. Attorney (Eastern District) Audrey Hemesath, and myself.  The cliffhanger final round was won by a team from Pepperdine, Ericka Welsh and Jake McIntosh.  The runner up was a team from Columbia of Hayley Malcolm and Armando Lozano (two first year students).
Congratulations to the winners! And congrats to the Moot Court Honors Board on a great event!