Telephone Town Hall with Congressman Ami Bera
Posted By Kevin R. Johnson, Feb 17, 2017
I had an experience with direct democracy last night, taking part in Congressman Ami Bera's telephone town hall (aka "teletownhall").  Congressman Bera answered call-in questions during the event.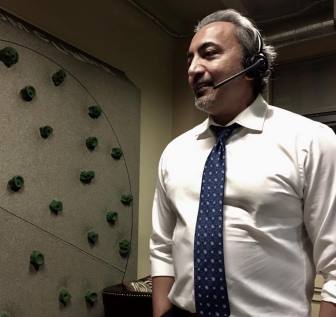 Congressman Bera takes calls from constituents. Courtesy: Twitter @RepBera
The questions were posed by constituents, touching on the Affordable Care Act, Medicare, prescription drug prices, the workings of Congress, executive power, and more.  Congressman Bera was well-versed on the issues and took first dibs on most of the questions.  He directed a few questions to me about President Trump's immigration executive actions, basic separation of powers under the U.S. Constitution, and services that were available through the UC Davis Immigration Law Clinic. 
Fred Riccardi, director of client services for the Medicare Rights Center, also was on the call and took on many of the health care related questions. 
The call was an interesting lens into American democracy at work.  The callers were thoughtful and asked questions important to each of them.  And the answers were thoughtfully presented.
Thanks to Congressman Bera for the opportunity!