Talking DAPA on Capital Public Radio's Insight
Posted By Kevin R. Johnson, May 4, 2016
Cross-posted from Immigration Prof Blog.
The U.S. Supreme Court is weighing a decision over President Obama's DAPA Program, Deferred Action for Parents of Americans and Lawful Permanent Residents, in the case of United States v. Texas. 
The high court heard oral argument on April 18 on the Obama Administration's deferred action program.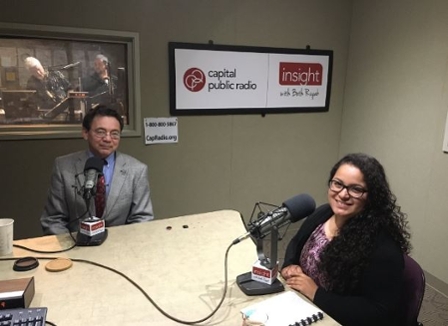 Me and Lizbeth. Photo from Twitter @CapRadioInsight.
This morning on the public affairs program "Insight" on Capital Public Radio, I talked about the case, its potential impact, and possible outcomes. I was joined by UC Davis undergraduate student Lizbeth Cuevas, who attended a rally outside the Supreme Court on the day of oral argument.  Lizbeth, who talks about the real human impacts of the deferred action programs, is the person really worth listening to in this interview.  I am proud that she is a student at UC Davis, who will be graduating in June with a degree in Human Development.