Talking Admissions with BPLA
Posted By Kevin R. Johnson, Dec 3, 2009
On Tuesday evening, I visited members of UC Davis's Black Pre-Law Association to tell them about the great reasons they should consider King Hall.
About a dozen students attended and asked very good questions.  Here's a sampling.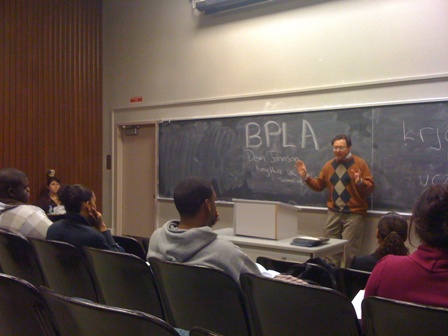 What advice do you have as I prepare to apply for law school?
Your GPA, LSAT score, and personal statement are the biggest factors.  The personal statement is your chance to stand out from the pack, and it gives the admissions committee a taste of your writing skills.  Don't wait until the deadline (February 1) to apply.  Don't even wait until late January!
Is there a required pre-law major?
No.  A lot of our students studied history and political science as undergrads, but we've admitted everyone from math majors to music majors.  That being said, the best law students often have a strong background in history, political science, writing, sociology, and economics.  So if you didn't major in these subjects, it might be helpful for you to take some of these classes in preparation for a legal education.
What if I don't know what kind of law I want to practice when I start law school?
While some students know exactly what kind of law they plan to practice when they begin law school, many more do not, and that's okay!  It's good for students to keep an open mind when they begin law school.  When I started law school, I thought I was destined to practice labor law, but I found my labor law class to be the most boring class EVER.  Now my scholarship focuses on immigration law. 
Do you disfavor UC Davis undergraduates?
No.  We review every file individually.  UC Davis students are NOT disfavored by UC Davis School of Law!  We have lots of Davis undergrads at King Hall.
To learn more about the Black Pre-Law Association, visit http://bpla.webs.com/.
Thanks to the students of BPLA for having me!