Symposium: Sustainability, Farm Labor, Immigration, ALRB, and Cannabis
Posted By Kevin R. Johnson, Apr 14, 2017
Today UC Davis School of Law hosted a conference on "Sustainability, Farm Labor, Immigration, ALRB, and Cannabis." A full house of growers, attorneys, state officials, community members, and others attended this daylong event.
Chairman Emeritus William Gould of the Agricultural Labor Relations Board was on a farm panel labor. I talked with a former student who is now ALRB General Counsel, Julie Montgomery '96. Dan Torres '02, who works on immigrant integration for California Governor Jerry Brown, also was in attendance.

Julie Montgomery '96 on the last panel of the day, "Cannabis and the ALRB"
Immigration is a big issue in agriculture.  I was pleased to talk on immigration enforcement under President Trump. Professors Cruz Reynoso and Amagda Perez commented in the current fears in immigrant communities about immigration enforcement.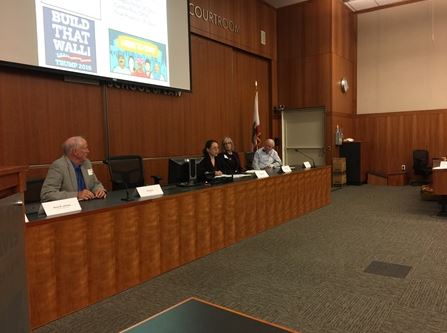 Professor Amagda Perez '91 addresses the farm workers conference. Professor Emeritus Cruz Reynoso is on the far right.
King Hall, with its focus on immigration, labor, and social justice, is ideally positioned to facilitate discussion on the issues affecting farm labor.  I am proud to be part of the discussion.