Swearing-In Ceremony 2012
Posted By Kevin R. Johnson, Dec 10, 2012
On Friday, we had a joyous Swearing-In and celebration of new lawyers from the Class of 2012. It was wonderful seeing so many happy faces. Friends, family, faculty, students came to the Kalmanovitz Appellate courtroom for the event.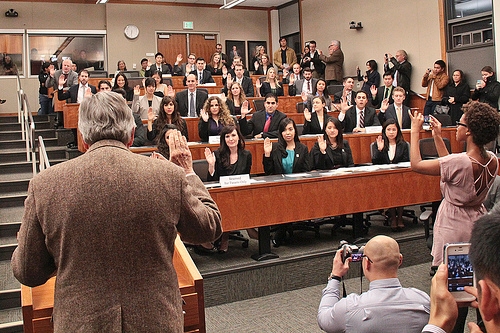 Judge Frank Damrell administers the federal oath.
Everyone in the program had a King Hall connection.  Justice Louis Mauro '87, of the California Court of Appeal for the Third Appellate District, administered the state oath. Frank Damrell, former United States federal judge in the Eastern District of California, administered the federal oath. He was an undergraduate pal at Yale of our own Professor Joel Dobris and has a daughter-in-law, Lori Damrell, who is a 2005 King Hall alum.  Both jurists offered inspirational and thoughtful remarks to the new attorneys.  Alumni board President Kara Ueda, of the Class of 2000, welcomed the Class of 2012 to the alumni association and asked the new members to support their law school alma mater.  Michael Levy of the Sacramento County Bar Association encouraged the new attorneys to join a local bar association and to support the judiciary.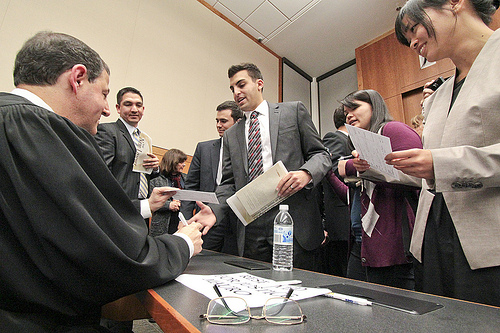 Justice Mauro signs Scott Judson's bar card.
At least two second generation King Hall alums were sworn-in.  A beaming Craig Judson, Class of 1984, and family watched son Scott (pictured above) as he was sworn-in. Earlier, jokes were made about how Scott would pick up the dinner check now that he's a licensed attorney. Also, Sarah Binning was sworn-in as her father, Michael Binning of the Class of 1979, watched with pride. Members of the Binning family came up from Southern California to watch the ceremony.
I was able to catch up with many alums, too many to name.  It really was an upbeat celebration at King Hall!
Want to see more pictures? Our photo gallery from the Swearing-In Ceremony is now posted on the Law School's Flickr page.