Summer Tax Institute 2017
Posted By Kevin R. Johnson, Jun 14, 2017
Never a quiet moment at UC Davis School of Law!  While many are on summer vacation, the Law School hosted the 27th annual Summer Tax Institute. Scores of the highest quality tax lawyers the world over descended on King Hall to hear about the very latest in the all-important topic of tax law.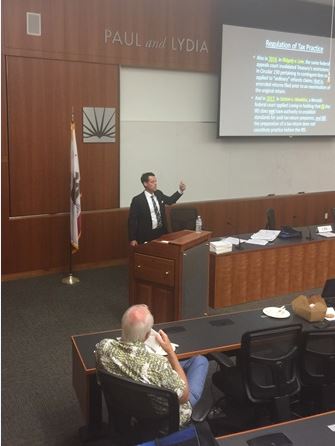 Our two influential tax professors, Darien Shanske and Dennis Ventry (pictured above, delivering today's lunchtime lecture), participated in the program, which included a virtual "who's who" in tax law.
Thanks to Professors Shanske and Ventry for leading the Summer Tax Institute.  And thanks to all the others, including Event Manager Gia Hellwig (with help from Communications Director Pamela Wu, Senior Graphic Designer Sam Sellers, and their student assistants) who made this program work with dignity and good cheer.
Go King Hall!