Summer International Programs 2013
Posted By Kevin R. Johnson, Jul 18, 2013
The summer international programs had their annual reception last night at the Mondavi Center. International students, faculty, judges, and friends of the international programs, including Barbara Juenger (wife of the late Professor Fritz Juenger), were in attendance. It was exhilarating to talk to judges and lawyers from around the world.
Among the many people I met was He Bing, Associate Dean of the law school at China University of Political Science and Law. His daughter graduated from our LL.M. program this year and is studying for the California Bar. We heard remarks from Anupam Chander, Director of the California International Law Center, and Beth Greenwood, International Programs director. I welcomed the group and highlighted just how important the international law programs are to UC Davis School of Law. I was pleasantly surprised with a plaque for supporting the international programs!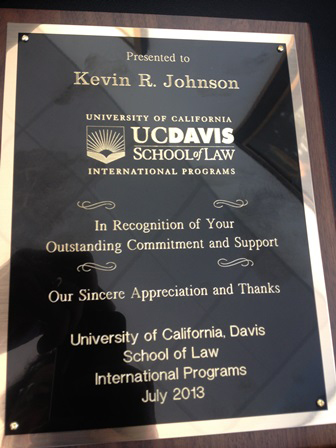 To learn more about the outstanding international programs at UC Davis School of Law, visit http://intllaw.ucdavis.edu/.