Students Win IM Sports Championship
Posted By Kevin R. Johnson, Jun 20, 2011
I received this great e-mail from newly minted alum Frank Lee '11.
"I wanted to share with you some good news about the success of King Hall's students in intramural sports.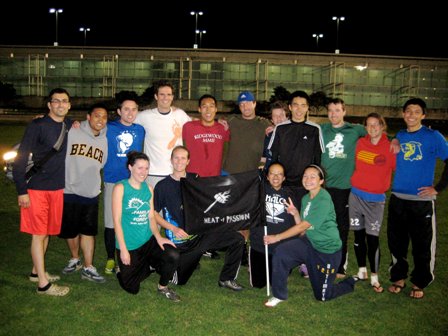 Heat of Passion, King Hall's Ultimate Frisbee Team, capped a perfect season by winning the UC Davis Co-Rec intramural "A" level ultimate frisbee championship on May 19th.  The team won on 'universe point', or sudden death, 9-8 in their championship game.  Heat of Passion was established three years ago and includes recent graduates Ariel Brown, Lauren "Ducky" Carden, Errol Dauis, Ollie Ehlinger, Frank Lee, Maggie Trinh, and Scott Vignos.

Yes, the picture does show a flag with a flaming gavel."
Thanks for the e-mail, Frank.  And... CONGRATULATIONS, TEAM!