Students Shine in 2017 Neumiller Competition
Posted By Kevin R. Johnson, Apr 21, 2017
We had another wonderful Irving Neumiller Moot Court competition yesterday, as the 48th annual event featured outstanding performances from our student competitors.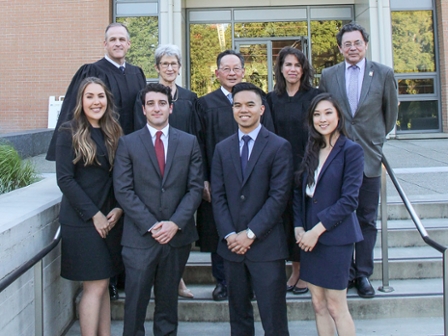 The judges, advocates, and me
The competition's fascinating problem involved a treason prosecution and Fourth Amendment search and seizure issue.  Paolo Hermoso '18 and Sarah Oh '18 ably represented the Petitioner/Defendant. Rebecca Friedemann '18 and Anton Swain-Gil '18 skillfully advocated on behalf of the United States.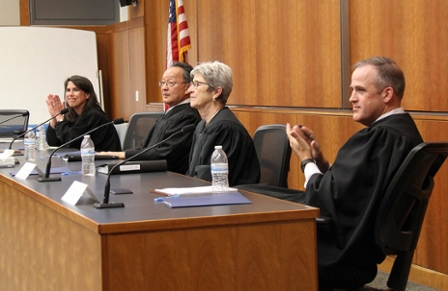 We had a great group of volunteer judges (pictured above, L-R): Justice Elena Duarte of the California Third District Court of Appeal, Justice Ming Chin of the California Supreme Court, Justice Kathleen Butz '81, also of the California Third District Court of Appeal, and Lt. Col. Brendon Tukey, Judge Advocate of the U.S. Air Force Western Judicial Circuit. They peppered the advocates with questions and were thoroughly engaged in the questions raised by the case.
Our advocates were poised, balanced, and effective. I was once again reminded of how talented our students are and effective our training programs are. They did King Hall proud!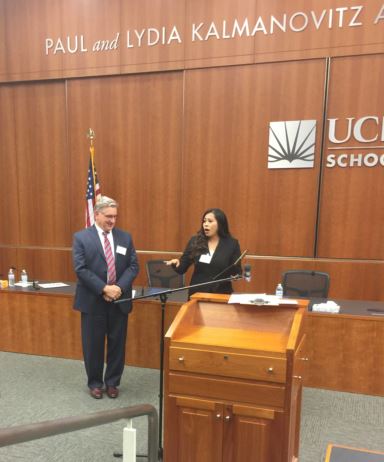 Sharlene Koonce '17 honors Michael Canzoneri, who teaches Appellate Advocacy, with the Tim Schooley Award for Service to the Moot Court Honors Board.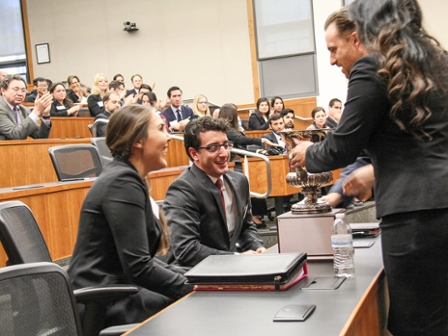 Congratulations to the winners of the Neumiller trophy -- Rebecca and Anton!