Steve Boutin Invitational Golf Tournament for KHLF
Posted By Kevin R. Johnson, Oct 6, 2014
Yesterday, the King Hall Legal Foundation (KHLF) held the 6th Annual Steve Boutin Invitational Golf Tournament.  With a great turnout, KHLF raised money for public interest fellowships.  
It was a beautiful day for golf, and we were on the links by 8 a.m.  School Board candidate (and King Hall Professor) Madhavi Sunder greeted the assorted golfers and made an impassioned pitch for the public schools.  Steve Boutin '72, for whom the tournament is named, was there. Assistant Dean for Career Services Craig Compton and his King Hall alum father Tom Compton '72 were in the group ahead of us.  Professors Dennis Ventry, Larry Green, and Rex Perschbacher were in attendance.  Bob Mendez '80 and his wife Trudy, both avid (and accomplished) golfers, made the trip from Southern California to play in the tournament!  The tournament concluded with a putting tournament among the professors.  I made a 25 foot putt and retired from the competition to the roar of the crowd.
The winning foursome was "The Jarheads" (pictured below left to right): J.P. Wallis '15, Michael Van Derwood '14, Roberto Herrera, and (Inspector General) Bob Barton '88.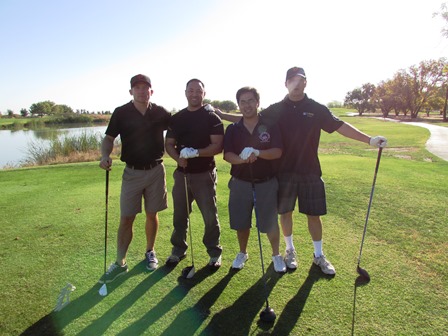 Photo credit: KHLF co-chair Anita Bamshad '16. Thanks, Anita!
It was a festive day showing the King Hall community at its best.  I was glad to be a part of it.