Steve Boutin '72 Honored by Sacramento County Bar Association as Distinguished Attorney of the Year
Posted By Kevin R. Johnson, Dec 8, 2015
I attended the Sacramento County Bar Association annual luncheon yesterday.  It was wonderful to see so many friends and alums of UC Davis School of Law.  The event honored one of King Hall's most distinguished alums, Steve Boutin '72, as the Distinguished Attorney of the Year.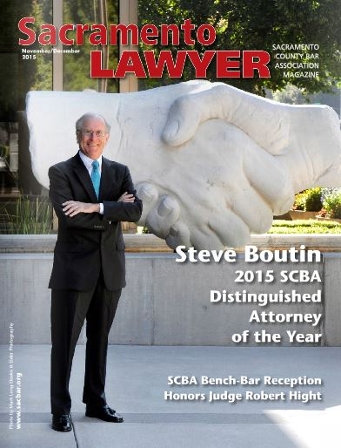 Steve is the past president of the King Hall Alumni Board and has been a dedicated ambassador for UC Davis School of Law (and UC Davis generally).  It was a warm and enthusiastic lunch honoring Steve for his many accomplishments and contributions to the Northern California legal community.
Steve honored me with an invitation to sit at a table of his family and friends. One of the people who introduced Steve was Bree Boutin, his daughter, who offered remarks that would make any parent proud.  Steve gave a warm, inspirational, and generous speech, noting the importance to his career of his education at UC Davis School of Law.
There were many King Hall alums in attendance, including Kara Ueda '00, Jeff Edwards '09, Justice Louis Mauro '87, and Jason Jasmine '01, who was sworn-in in as Secretary/Treasurer of the Sacramento County Bar Association.  Bryan Hawkins '05, one of my former civil procedure students, will serve as a member of the Board of Directors.  A number of friends of UC Davis School of Law were in attendance, including federal district judges Morrison England and John Mendez, and Presiding Justice of the California Court of Appeal for the Third District Vance Raye.
It was a warm and wonderful event with many UC Davis alums in attendance.