Speechwriter, Advisor for Dr. King at UC Davis
Posted By Kevin R. Johnson, Feb 11, 2013
In case you missed it, the Law School website carries a news item on last week's visit by Dr. Clarence B. Jones, the advisor for Dr. Martin Luther King, Jr. who also co-wrote the famous "I have a dream" speech. His appearance was a part of an event called "Remembering Our Roots: Celebrating Dr. Martin Luther King, Jr. at King Hall," spearheaded by 3L Fabiola Larios and organized by the Law School and several student groups. There's a story about how the event came together here on the UC Davis site.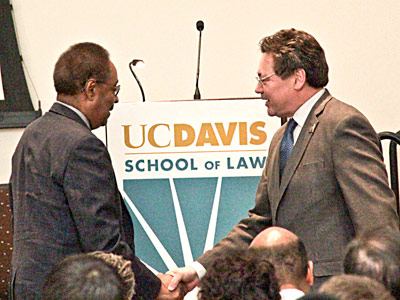 Here I am welcoming Dr. Jones to the stage.
I had the honor of introducing Dr. Jones and Professor Emeritus Cruz Reynoso. Dr. Jones was also kind enough to take questions from the audience. Check out the news story for details on what he said!