Silicon Valley Alumni Lunch
Posted By Madhavi Sunder, Nov 17, 2016
I had the pleasure of attending our annual Silicon Valley Alumni Lunch last week, graciously hosted by Bijal Vakil '96 of White & Case. We had a record turnout of more than 40 alumni, including Rew Ikazaki '87, Chief Counsel at Tesla Motors, and David Ach '77 of Jorgenson, Siegel, McClure, & Flegel. I enjoyed seeing many of my former intellectual property students, including White & Case's own Nathan Zhang '13, Wendy Guo '13 of Wilson Sonsini, Jishnu Menon '06 of Mozilla, Jaysen Rajkomar '07 of Stanford's tech transfer office, Louis Wai '13 of Turner Boyd, Victoria Wong '15 and Guang Zhang '13 of Fenwick & West, and many others.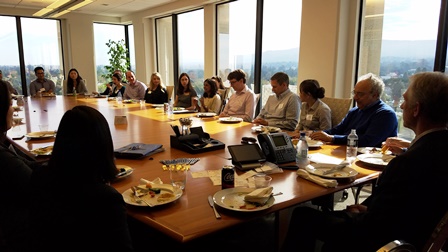 Lunch with alumni at White & Case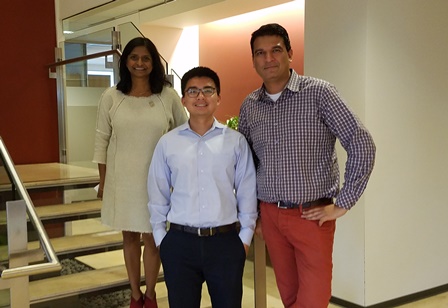 Me with Nathan Zhang '13 and Bijal Vakil '96 at White & Case
I told those assembled that I shared Bijal Vakil's dream of seeing King Hall lawyers in larger and larger numbers up and down Page Mill Road. Alumni cheered when they heard that our faculty is now 50 percent women and more than 50 percent minority, reflecting the diversity of California. I heard from Chris Moore '88 that his class led a "Diversify the Faculty" campaign — indeed, we began to see the fruits of their efforts the following year, when King Hall hired two Latinos and one African-American — today one of those scholars is our dean. 
I spoke about our externships and skills-based courses, our support for student social and emotional well-being with a new wellness program and in-house counselor, and invited everyone to attend (or at least to tune in via live-stream) the upcoming law review symposium, "Future Proofing the Law," which will focus on law and new technologies, to be held at King Hall on January 27-28, 2017.
The King Hall contingent at the lunch was strong, including Assistant Dean of Career Services Craig Compton, Executive Director of Development Karen Charney and Director of Development Nick Dolce. 
I very much enjoyed my time meeting alums I had not met before, and reuniting with my former students who are doing cutting edge legal work in Silicon Valley.