Shark Week 2015
Posted By Kevin R. Johnson, Sep 14, 2015
It was great seeing Eric Kastner '72 today.  Eric, a founding partner of Kastner Kim LLP, has been practicing law in the Silicon Valley since 1976. He gave the introductory talk in the King Hall Negotiations Team (KHNT) annual "Shark Week."  Eric offered his perspectives on arbitration, mediation, alternative dispute litigation, and litigation in high stakes employment cases involving corporate CEOs and other officers. The students really enjoyed his presentation.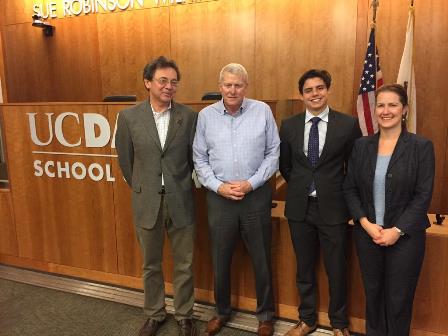 Me, our great guest Eric Kastner '72, Oscar Orozco-Botello '16, and Professor Donna Shestowsky
Professor Donna Shestowsky and the KHNT students have a great week lined-up. You may have seen tomorrow's guest on TV: it's Andrew Greenwell of Bravo TV's new hit series Million Dollar Listing San Francisco.
Here's the full lineup for Shark Week.