Senior Associate Dean Sunder Appointed to Dykstra Chair
Posted By Kevin R. Johnson, Jul 5, 2017
This news story was just posted to the King Hall website. I am so proud to recognize our Madhavi Sunder with this chair!
Senior Associate Dean and Professor Madhavi Sunder Appointed to Daniel J. Dykstra Endowed Chair
Madhavi Sunder, an influential scholar of law and culture and Senior Associate Dean for Academic Affairs, has been appointed as the Daniel J. Dykstra Endowed Chair at UC Davis School of Law.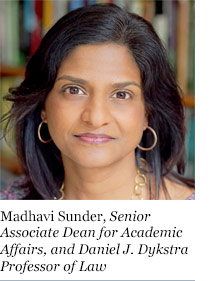 Sunder joined UC Davis School of Law in 1999 and was elevated to Senior Associate Dean in 2015. She was named a Carnegie Scholar in 2006 and has been a Visiting Professor of Law at Yale Law School, the University of Chicago Law School, and Cornell Law School. Her work traverses numerous fields, from intellectual property to human rights law and the First Amendment. She has published in leading law journals including the Yale Law Journal, California Law Review, and Texas Law Review, among others. Her article "IP3," published in the Stanford Law Review in 2006, ranks among the top 25 most-cited Intellectual Property articles of the last decade and as the No. 1 most-cited International IP article of the past five years. Her book, "From Goods to a Good Life: Intellectual Property and Global Justice," was published by Yale University Press in 2012.
"Dean Sunder is a world-class scholar whose work addresses some of the most important issues in contemporary society: technology, intellectual property, and social justice," said Dean Kevin R. Johnson. "UC Davis School of Law is proud to recognize her accomplishments with the Daniel J. Dykstra Endowed Chair."
Dean Sunder succeeds Professor and Dean Emeritus Rex Perschbacher, who was the inaugural holder of the Dykstra Chair. The chair is awarded to a faculty member who demonstrates "outstanding scholarship and teaching and is committed to the ideals of founding School of Law faculty member Dan Dykstra." Dykstra, one of the first faculty members hired at UC Davis School of Law in 1965, rose to become Dean from 1971 to 1974 and remained at King Hall until his retirement. Alumni, friends, and family of the late Dan Dykstra provided funding for the the Daniel J. Dykstra Endowed Chair to honor his memory.