Schwartz/Levi Inn of Court
Posted By Kevin R. Johnson, Apr 19, 2016
I just received this photo from Sacramento Superior Court Judge Emily Vasquez. The photo was taken during the April 13 meeting of the Schwartz/Levi chapter of the Inn of Court.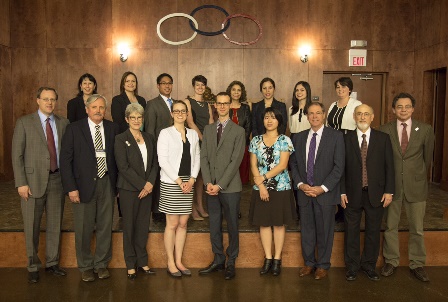 The photo features the chapter's executive committee, law students, and faculty members in attendance at the recent meeting. King Hall has a strong presence in the Inn of Court, with many faculty, students, and alumni who are members.
Judge Vasquez, chapter president, writes on the chapter's website, "Our members are judges, lawyers and law students from the Sacramento/Yolo County area, and we generally meet in Davis, California, on the second Wednesday of each month from October through June. We are affiliated with the American Inns of Court, which is dedicated to improving the skills, professionalism and ethics of the bench and bar."
For more information about the Schwartz/Levi Inn of Court, visit www.schwartzinn.com.