Law School Cheers on UC Davis Women's Basketball Team
Posted By Kevin R. Johnson, Dec 1, 2017
UC Davis School of Law alums, students, staff, and friends attended the UC Davis Women's basketball game on Thursday, Nov. 30. It was a great UC Davis evening.
I, along with my wife Virginia, had the honor of serving as honorary coaches. Coach Jennifer Gross and Joe Teramoto, Associate Head Coach, took us to the locker room where we met some players -- including one interested in law school -- and heard the pregame talk.  Coach Gross and Assistant Coach Des Abeyta played for the Aggies in the 1990s; my family watched them play many times as my daughters were ball girls for the team.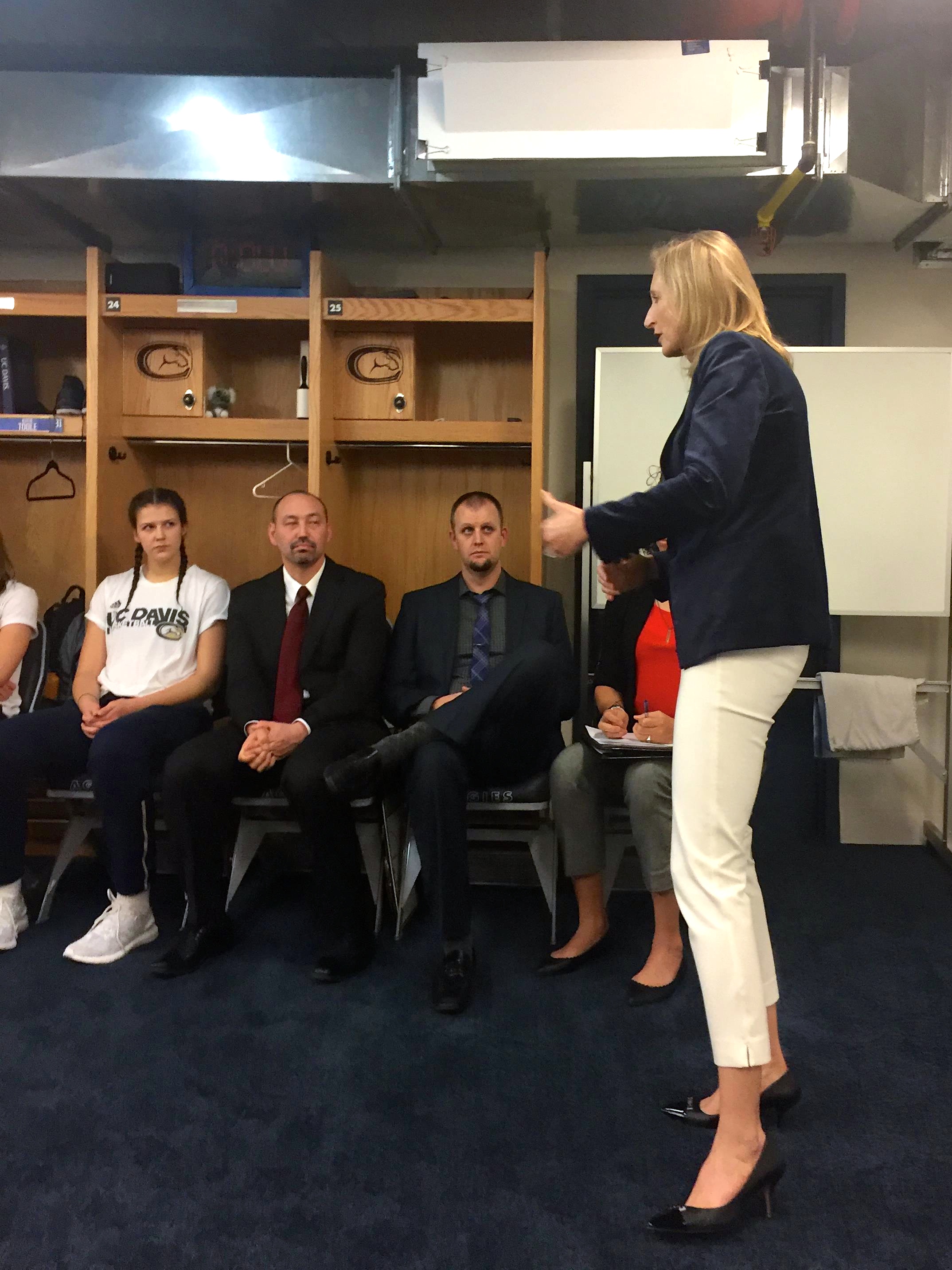 [Coach Jennifer Gross goes over game strategy in the locker room before the game]
The School of Law hosted an enthusiastic group of students from the Davis School District. The Davis Bridge Program provides hands-on tutoring to support more than 150 Davis elementary and middle-school students.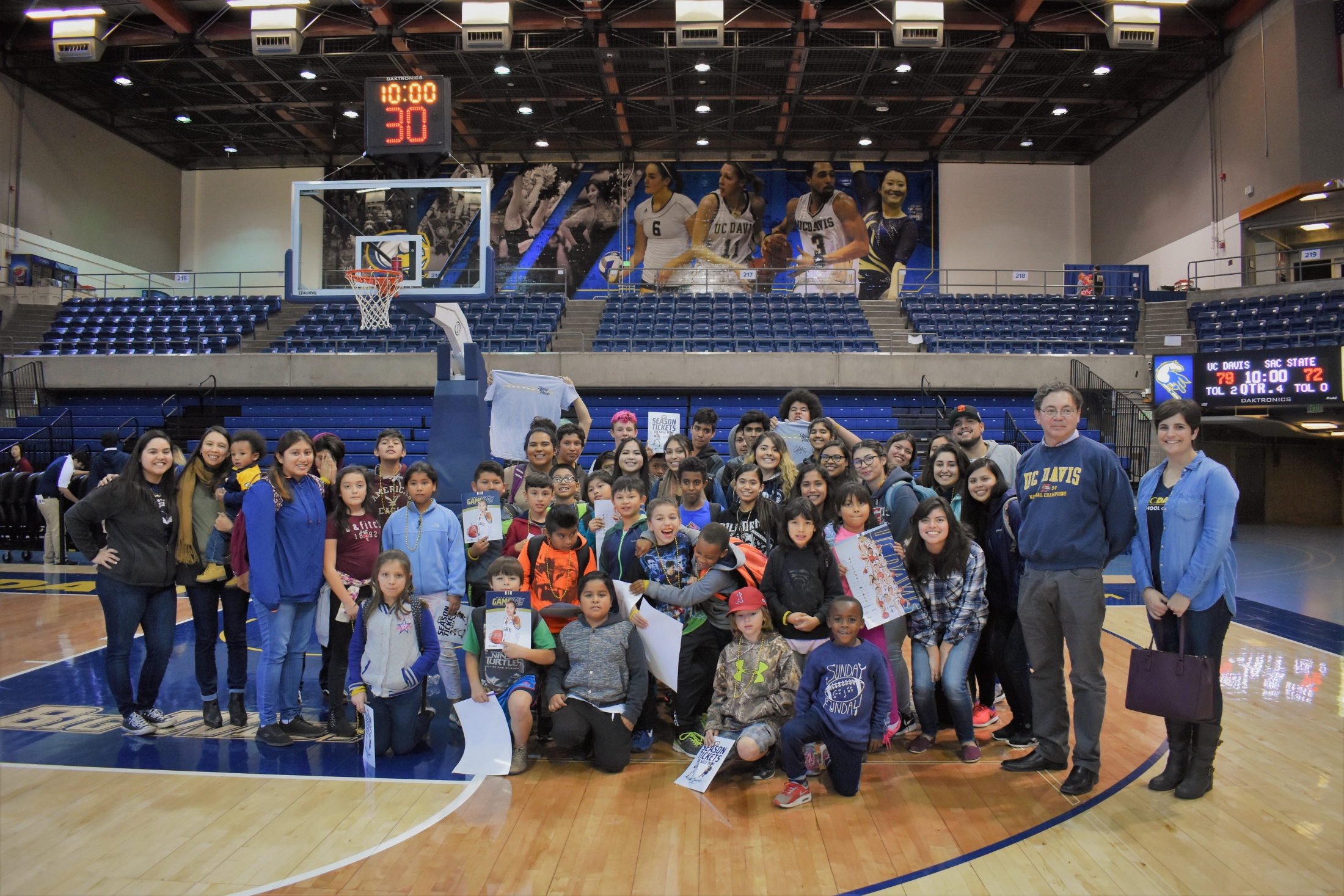 Approximately 85 UC Davis students are matched with one to two students and meet several days per week to help with reading, ELA/SLA, math, science and social studies. The program is committed to helping all students go to college and achieve academic success regardless of income, race or ethnicity. Senior Associate Dean (and Davis School Board member) Madhavi Sunder helped us invite this wonderful group of students. Before the game, the students enjoyed a visit with Aggie mascot "Gunrock."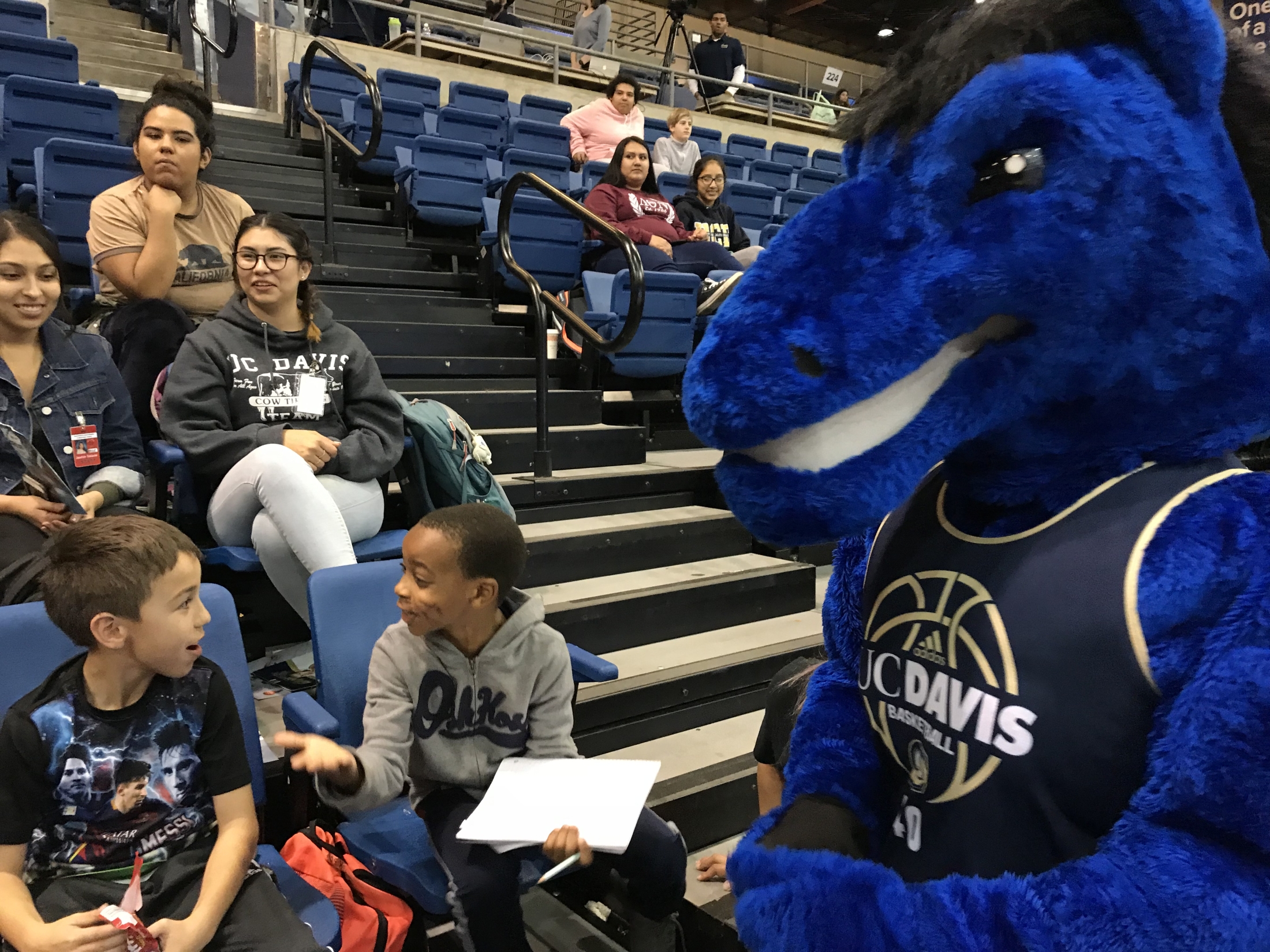 [Gunrock greets Montgomery Elementary students from the Bridge Program]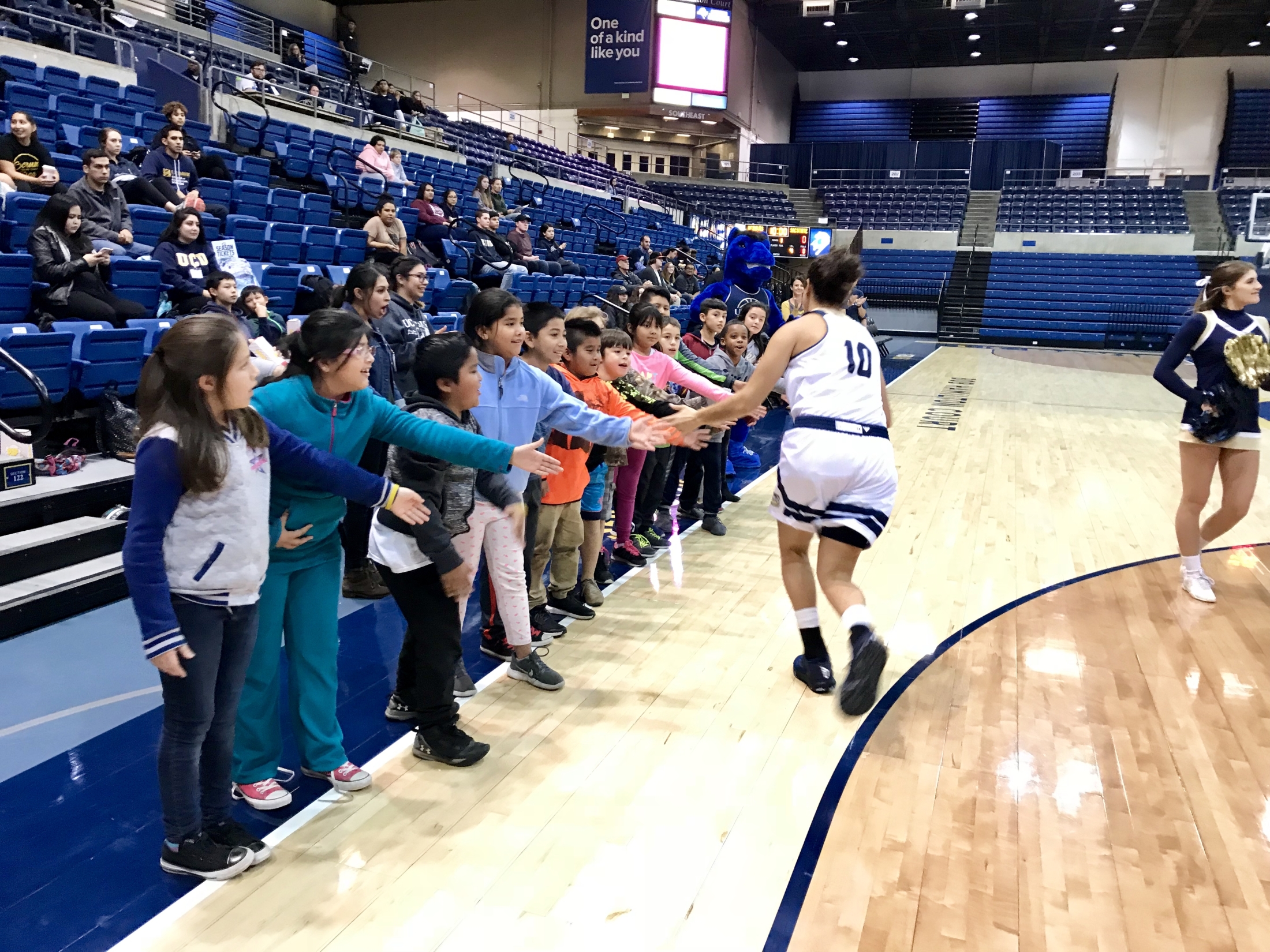 [Montgomery elementary students give high-fives to the players before the game]
After the game, many got autographs from the players.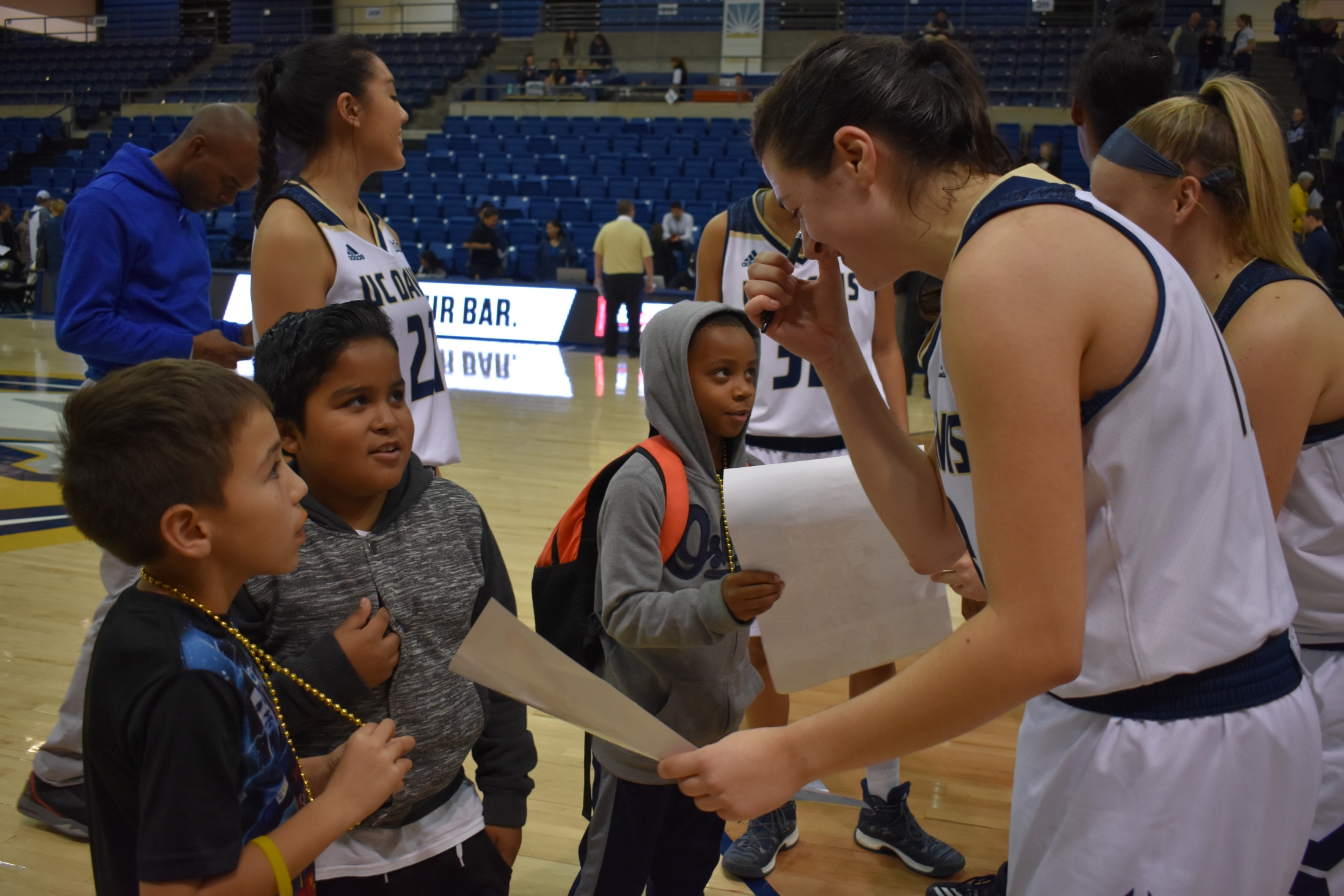 [After the game, many of the students got autographs from the players]
We had a number of staff and alums at the game as well. Lisa Taylor Carlock '97 of the Career Services office brought along another King Hall alum, her husband Chad Carlock '96. Academic Personnel Analyst Katrina Wong brought her mother and father. Bill Mantle '74, a big Aggie booster who recently relocated to Northern California, sat with me on the sidelines and cheered the Aggies on to victory.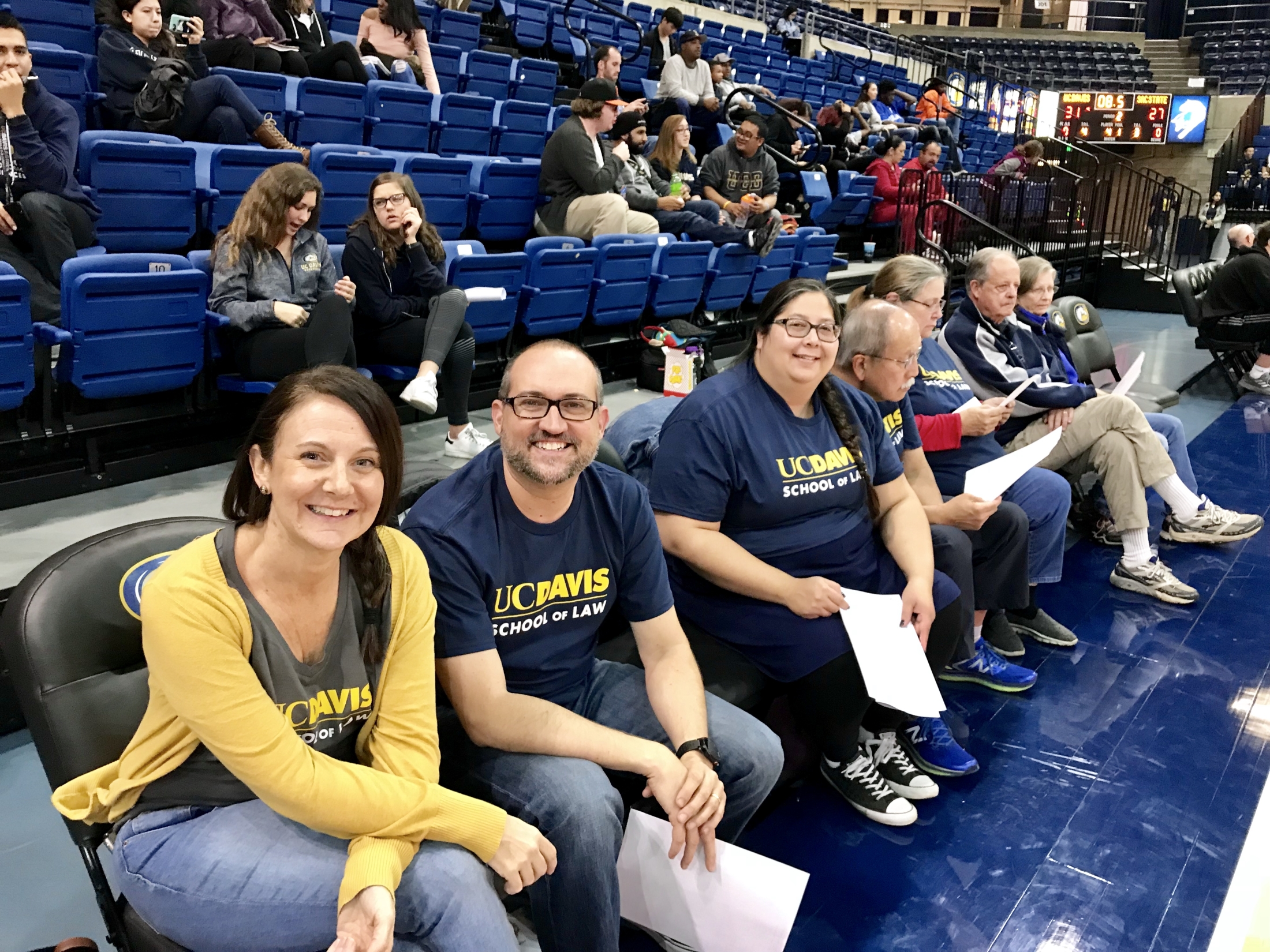 [King Hall staff and families from left: Lisa Taylor Carlock '97, Chad Carlock '96, Katrina Wong and parents]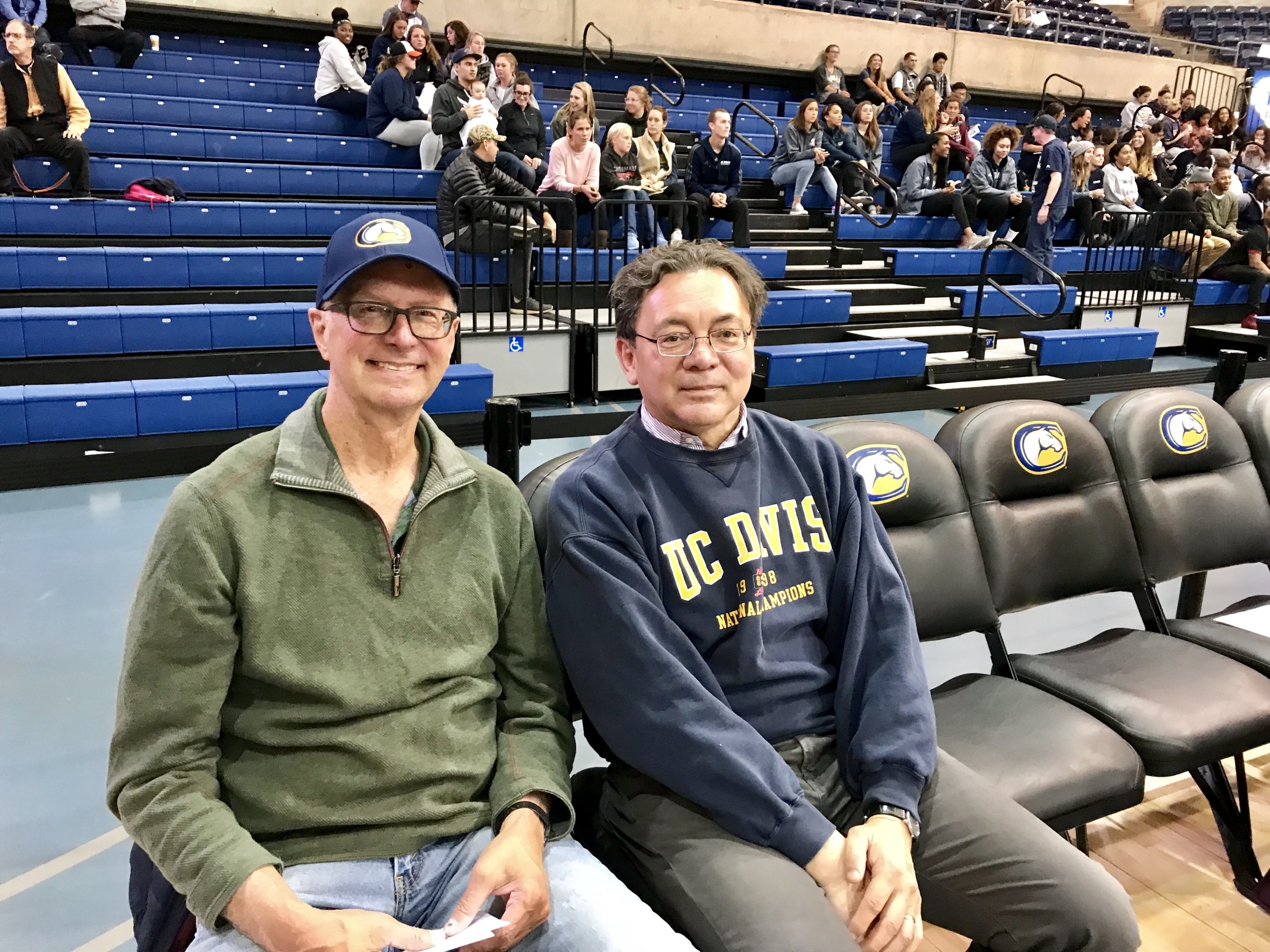 [courtside seats under the basket nearest the Aggie's bench with Bill Mantle '74]
As is characteristic of rivalry games, the Aggie/Sac State game was hard fought and physical. The Aggie women prevailed 79-72 and remain undefeated with a 7-0 record. UC Davis junior forward Morgan Bertsch finished with a career-high 29 points. I look forward to seeing this team play more this season!